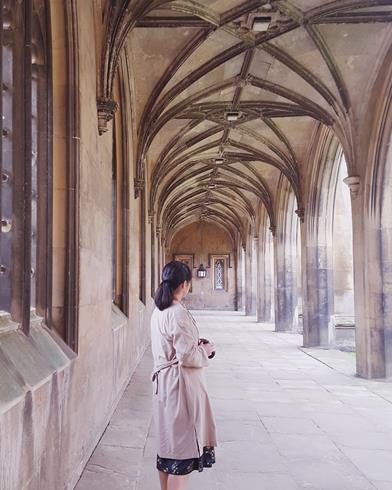 miki
旅と読書を愛するバイリンガル・ブロガー
ローカルたちのお気に入りを体験するような、「暮らすような旅」がしたい。
読書、写真、美術館めぐりが趣味。カフェと本屋さんがパワースポット。
ICU卒(BA'15)、ロンドン大学大学院卒(MA'16/17)
都内のコンサルティングファームにて会社員('18 Oct~'19 Jul)
2018年12月にロンドン大学院で出会った彼と国際結婚。遠距離恋愛の末、2019年7月にイギリスへ移住。
現在はロンドンを拠点に、平日は会社勤め、休日は旅行、写真家、翻訳家、執筆等、幅広く活動しています。
このブログでは、旅行が大好きな私のオススメスポットを日本語と英語で紹介します。(私が英語で書く理由)
純ジャパとして学んだ英語のコツを伝授する記事も (私の英語勉強法)
ステキな洋書での読書体験を伝道すべく、2019年8月18日にMiki's Little Bookshopのサービスをスタート。洋書専門の選書を承っています。
ロンドンでの生活をnoteにて有料マガジン【Miki's Little Tube Ride】に綴っています。
本や舞台のレビューを【Intermission Ambience】名義のブログに綴っています。
*Instagram
@mikitravelgram:旅と読書をテーマに、イギリスでの生活や各国の景色を投稿中
Instagram Feature
The Cambridge Satchel Company (20/Feb/18) (15/Jan/18)
Study London (07/Oct/18) (11/Oct/18)
Pan Macmillan (20/Nov/18) (15/Jan/19) (20/May/19)
Jefferson's Ice Cream (04/Sep/19) (19/Aug/20)
タビナカ (06/Oct/19)
Royal Opera House (16/Oct/19)
Madison Hotel (05/Dec/19)
Daunt Books (14/Dec/19)
Petersham Nurseries (29/Dec/19)
The Academy Hotel (28/Jan/20)
Tsuchiya Kaban (21/Feb/20)
Flora Magazine (5/Mar/20)
Strand Book Store (31/Mar/20)
Rest More (24/Jul/20)
Breakfast London (12/Aug/20)
Trade Coffee (17/Aug/20)
Marc Mirren (10/Sept/20)
Previous Collaboration
Daniel Wellington / CASETiFY / Gaston Luga
Lia Kulea / MAVEN WATCHES / Hands A P.P.
tu-hacci / Bonjour Paris / Marc Mirren
Elliott & Thompson / Quarto Books
Pan Macmillan / Hodder & Stoughton
Harper Collins UK / Walker Books
Pushkin Press / Penguin UK Books
And Other Stories / Comma Press
Arla UK / Nordgreen / Nonna Tonda / sudio
*掲載
2020年3月 株式会社ミスター・パートナー 英国生活 mr partner 4月号 No.360
– 表紙 及び 巻頭特集「スコーンとクロテッドクリームを味わう英国クリームティー」の一部写真提供
2020年2月20日 MERY お茶を嗜むステキな女性に憧れて。暮らしを彩る一杯を選びたいティーブランド8選
– 写真掲載
2019年11月 小学館 CanCam 2020年1月号「行く前に見るべき!旅系インスタグラム22」(25/Nov/19)
– Instagram アカウント紹介
*Tabi MUSE
旅を愛する女性のための海外旅行メディア「Tabi MUSE」にて、公式ライターであるMUSEの一人として、2017年7月から旅行記を執筆中
– Mayfield Lavender Farm – イギリス・ロンドンからshort trip!日帰りで楽しむラベンダー畑
– Booklover in Paris – 出張のスキマ時間で楽しむ、フランス・パリで読書の秋。
– Be a Londoner – イギリス・ロンドンで自然と文化に浸る、ロンドナーの週末モデルプラン
– Vienna – 歴史と芸術に浸る。オーストリア・ウィーンで過ごすクラシカルなハネムーン
– Paris – アート初心者でも安心☆9つのミュージアムを巡るパリの4日間
– London -ローカルのお気に入りスポットを巡る!2日間でロンドナー気分を味わう旅
【ロシア】豪華絢爛!キラキラとパステルカラーの街『サンクトペテルブルク』
【ロシア】異国情緒あふれる街!充実の『モスクワ』ひとり旅♡ 2泊3日
*イギリス生活に関するエッセイや日々の想いをnoteで執筆中
note (@mikitravelgram)
*
Japanese/English bilingual blogger, currently in London.
Book and Travel Instagrammer @mikitravelgram exploring the world's wonderful places and fantastic books 🙂
I write about travelling, reading(both E&J), and cafe/bookshop hopping.
SOAS, University of London (MA '17), International Christian University (BA '15)
Financial consultant based in Tokyo ('18 Oct to '19 Jul)
After the extended period of long distance married life, finally moved to the UK.
Currently based in London ('19 Jul -)
*Previous reviews
MORE BANG FOR YOUR BOKKSU. AUTHENTIC JAPANESE TREATS STRAIGHT TO YOUR DOOR!
FANTASTIC DEEP TISSUE MASSAGE AT LINNAEAN LIVING @ Hype Experiences
FEELING CREAMY! TIME TO TUCK IN TO MAITRE CHOUX'S GORGEOUS ECLAIRS @ Hype Experiences
FILLING UP ON FULL-ON FLAVOURS WITH PEP KITCHEN'S FANTASTIC FROZEN TAKEAWAYS @ Hype Experiences