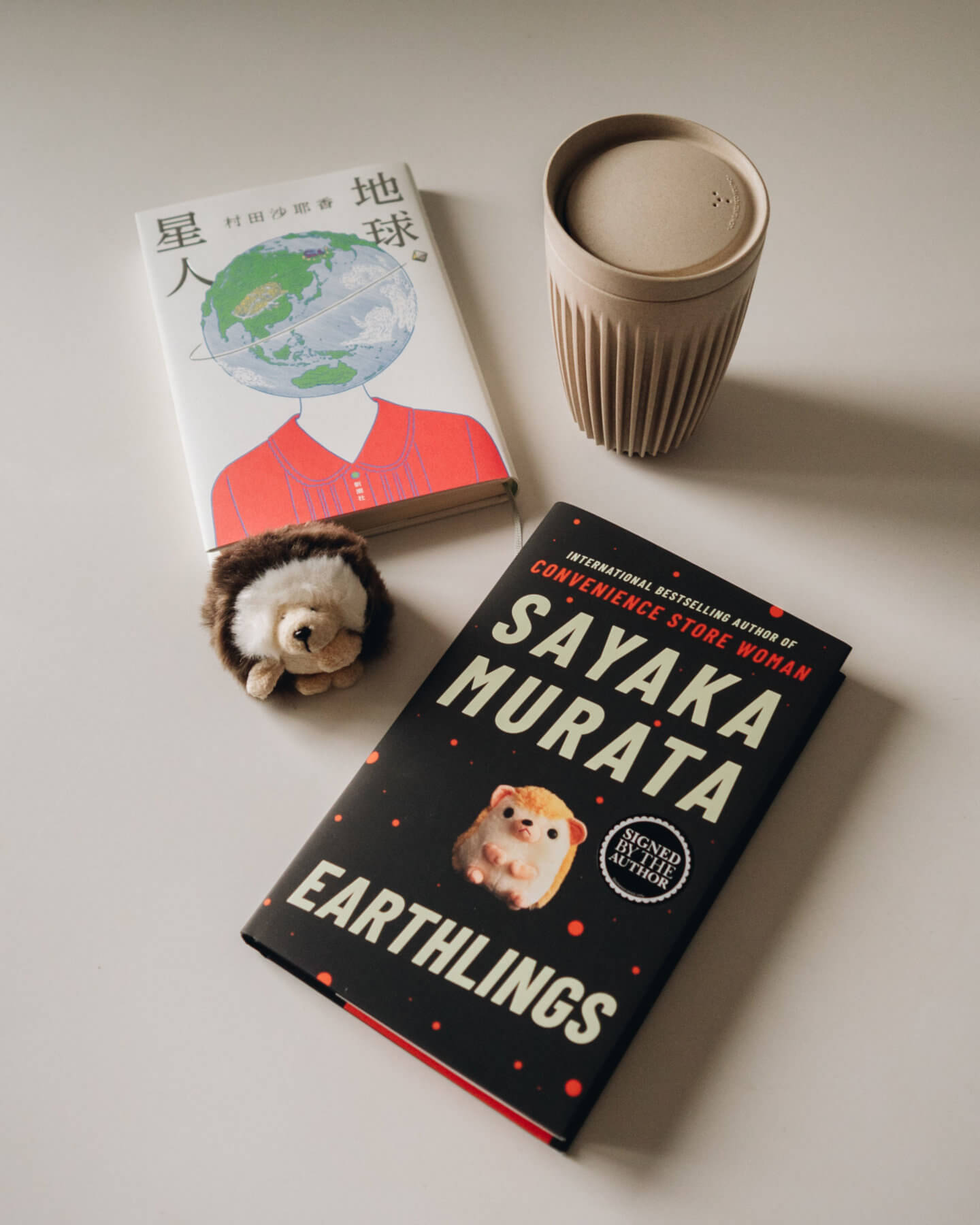 Having lived in London for a long enough now to be able to explain the difference between life in Japan and life in the UK, I'd say the sense of societal peer pressure, in particular, is much stronger in Japan. I'm certain everyone in Japan has the feeling it's just all too much, at one point or other in their lives. However, the overwhelming conformity gradually pushes you back onto the 'correct' track to follow. Society just won't let you drop off the route you 'should' take.
イギリスと日本の違いについて、なんとなく答えられるくらいには長くイギリスに住んだかなと思う最近、日本の同調圧力は特に大きな違いだなと感じています。きっと、日本でも誰しもが、他人に合わせるなんて「もう充分」と感じることが一度や二度はあると思うのですが、それでもどこかで思い直し、指定されたルートや、正しい道に戻っていく…そんな感覚。脱線なんてさせない、そんな圧力。
Sayaka Murata's award-winning novel 'Convenience Store Woman' was a big success, even in its English translation. However, I felt at times that the background context discussed above was sometimes not as well understood amongst that English readership as it perhaps could have been. Why did the protagonist feel she had to meet her family's expectations, to get married and live the life of a 'normal' happy woman? As an independent woman, why couldn't she just do what she wanted? These are all questions and feelings I've heard expressed by English readers.
村田沙耶香さんの芥川賞受賞作「コンビニ人間」は、英語の翻訳版が英語圏でも広く読まれました。でも、日本の社会背景があまり理解されずに物語が読まれているためか、英語の読者の感想には「どうして主人公が家族の顔色を伺って、結婚や「普通」の女の幸せに対する期待に応えようとするのか」「いい大人なのに、どうして自分のしたいことをして生きようってただ思えないの?」というようなコメントを見かけます。
As a woman myself, growing up in Japan and hearing all about these 'normal' routes in life, the feeling of pressure from the society around me to follow them was inescapable. The very idea of gender inequality was not even considered a serious issue. Over the years, I've heard lots of awful statements from politicians, neighbours, teachers, bosses at work and even relatives. I know there are often similar feelings expressed within the UK as well, but the general sentiment is much stronger and far more overwhelming in Japan.
日本で生まれ育った私は、こういう「普通」の人生といったものや、社会のプレッシャーということを感じながら生きてきたと、だからこそコンビニ人間に共感することもあったのだと思います。ジェンダーの平等なんて、まだ真剣に話し合われていないような日本。政治家、ご近所さん、先生、会社の上司、親戚にまで、「女性だから」と言って押し付けられたり、「女性らしさ」を求められたりするような、耳を目をふさぎたくなるような瞬間が今までに何度もありました。イギリスでもこういった問題はまだあるけれど、日本の方が遅れているかなと感じています。
Sayaka Murata's newly translated novel 'Earthlings' describes similar themes to 'Convenience Store Woman', but pairs it with what I felt was an even more convincing and powerful narrative. Natsuki – the protagonist, who we first encounter aged around ten years old – finds it hard to fit in to society. She believes a spaceship is coming to save her, so endures life's hardships with her soft toy hedgehog (from the Planet Popinpobopia) as her constant companion. She frequently refers to society as a 'factory' in which people need to enter either as part of the workforce or as a 'baby machine' in order to fully contribute.
村田沙耶香さんの新作「地球星人」でも、「コンビニ人間」で扱われていたようなテーマが語られています。でもそれが今作ではもっとパワフルで、力強いメッセージとなって伝わってきました。主人公の奈月は小学校高学年にして、既に社会での生きづらさを感じている子。いつか、ポハピピンポボピア星から迎えがやってきて、地球から飛び立つのだと信じることで今を生き抜いている。奈月にとって地球は「工場」で、働くか、繁殖するかで貢献するしかないのだ、と絶望している。
This book contains a number of shocking scenes and disturbing descriptions of sexual abuse (so please be mindful of this). The protagonist goes through so many extreme situations, and yet the world as seen through her eyes is always portrayed convincingly and vividly. In the latter half of the book we encounter the protagonist, Natsuki, again as an adult; the core themes expanding to include – amongst other things, married life – along the way to a somewhat crazed but ultimately convincing ending.
衝撃的なシーンや、性的虐待のシーンもあります。(苦手な方はお気を付けください)主人公はとても壮絶な経験や状況下の中で過ごしていきますが、主人公の視点から見る世界が本当にリアルで、なんだか納得がいく。物語の後半は、大人になった奈月の視点で、より結婚に関する考察が増えていきます。物語の結末には思わずはっとさせられます。
Earthlings is definitely not a rosy, wonderful portrayal of Japan, nor a wholly accurate description of the country. Sayaka Murata's books generally receive a mixed reception in Japan due to the mixture of extraordinary characters and the extreme sense of imagination at play. But one thing is certain, this book will without a doubt help international readers understand more about the 'trapped' feeling ever-present within Japanese society, and the struggles of those people who face constant difficulty in trying to fit into it.
この本が日本をよく描写している…とは言いませんが(極端なキャラクターや作者の想像力がマジカルなので)、英語圏の読者にとっては日本の「生きづらさ」や現代の閉塞感をよく理解できる1冊となるのではと思っています。原書の生き生きとした日本語が、美しい英語で表現されていました。誰もが好きになる1冊、ではないかもしれませんが、私にとっては衝撃の、そして力強く訴えかけてきた1冊です。
*****
More reviews available on my book blog Intermission Ambience
書評ブログの Intermission Ambience にも本のレビューを書いています。あわせてぜひご覧ください!