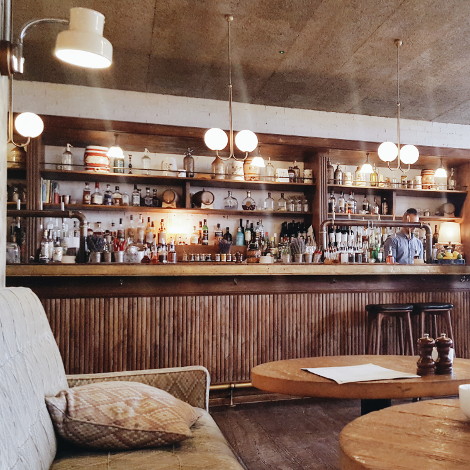 Central London is sometimes inconvenient if you are looking for a nice cafe to work on your laptop.
ロンドンの中心で困ること、それはカフェの席がみつからないこと!笑
I really like to work at the cafe. The limited space and noisy background are always one of the biggest concerns.
私は外で勉強したり、仕事したりするのが好きなので、ステキなカフェほど席が少なく、ガヤガヤしているのが気がかりでした。
One day, I found this spacious cafe at the entrance of the hotel called the Hoxton near Holborn. Tables were big enough for your drink, food and laptop, there were even sockets for most of the seats.
でもある日、The Hoxtonという、Holborn駅近くのホテルの入り口にすごくステキな空間を発見。なんとこの広いラウンジ、カフェになっていたんです!食べ物とコーヒーの横に、パソコンを置いても十分余裕がある大きなテーブル。しかもほとんどの席の近くに電源もありました。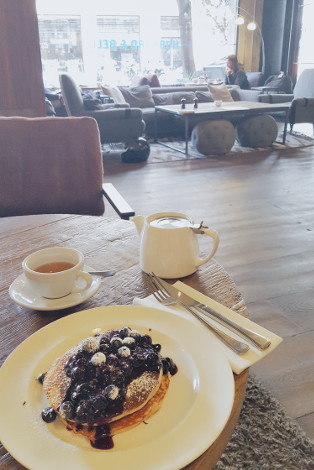 Buttermilk pancake tasted good. There is an open-kitchen restaurant at the back of the lounge area and they serve posh burgers for lunch (Tasted good!). It is a bit noisy during the lunch time, but for most of the time, it is not too loud to work and read.
ブルーベリーがのったバターミルクパンケーキもほどよい甘さで、とてもおいしかった。このラウンジスペースの奥にはオープンキッチンのレストランも敷設されています。ランチタイムにはちょっと高級なハンバーガーを食べることができます。(これもおいしかった!)そのせいか、ランチタイムは少々ガヤガヤしていますが、ほとんどの時間帯が作業するのにも程よい雑音間。
Regarding price, it was not too overpriced but could be expensive for everyday use. (ex. 10 pounds for pancake) Also, if I remember correctly, they have the service charge. Reflecting all the friendly and polite service from staff, and the spacious working space, I thought it was reasonably priced.
気になるカフェのお値段ですが、毎日気軽に入れるお値段ではないかも…という感じ。(写真のパンケーキが10ポンド)あと、たしかこれにサービス料が加算されていたはず…
でも、心地いいサービスを受けたという印象があったので、このゆったりとした空間と合わせてこの金額なら決して高すぎることはないなぁと思います。
Overall, I recommend this place for every nomad workers looking for a good cafe for the weekend!
ロンドン中心部で作業スペースにお困りのノマド・ワーカーさんの週末。都会の喧騒に疲れた旅人さんの休憩。そんな時にオススメのカフェです。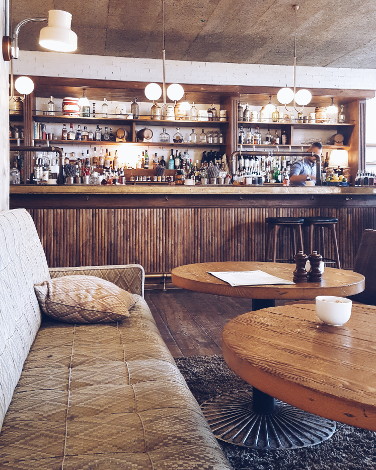 My favourite spot was this long sofa. It was very comfortable. Chic décor made me feel amazing.
このソファの席がお気に入り。シックなインテリアが気分を高めてくれます!