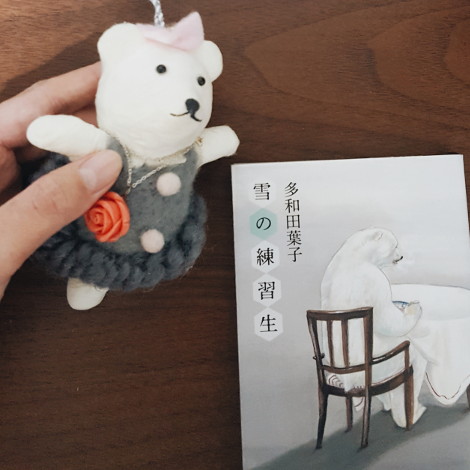 I wonder why this book isn't as acknowledged as it should be?
どうして誰も私に教えてくれなかったんだろう?って思うほど、大好きな1冊と出会いました。
This book felt like a masterpiece of historical literature!!
歴史文学作品の傑作!とでも呼びたくなるほど、素晴らしい一冊。
I spotted this cute polar bear cover at Foyles, not knowing the author is actually an Akutagawa prize winner! (* The Akutagawa prize is the most famous literary award in Japan.)
この本、日本の芥川賞作家 多和田葉子さんの作品ですが、ロンドンのFoylesで翻訳版を発見し、初めて知りました。かわいいホッキョクグマの表紙が目立っていました。
Reading this book made me feel very intellectual, with it giving off a great atmosphere of pre-war and wartime Russia and Germany as well as an excellent analysis of humans from the polar bear's point of view.
とても知的な気分になります。戦前・戦中・戦後のソ連やドイツを、ホッキョクグマを主人公に疑似体験できるような作品。ホッキョクグマの視点から見る「人間」の姿がとても興味深い。
All these complex topics were introduced in just the right amount and at the right timing within the story. The quality of language was amazing, with in-depth analysis discussed in a very readable tone. The main characters – polar bears – sounded so lifelike in both their actions and speech. Just perfect as a literary novel!!!!
ホッキョクグマが主人公なので、どこか「かわいい」雰囲気にあふれる物語ではあるのですが、その中にピリッと、鋭い、人間に対する考察が潜んでいる。動物、政治、社会生活、歴史、人種…いろいろなトピックが、本当に巧妙に織り交ぜてあるストーリー。言葉遣いの美しさにも舌を巻きます。深い考察がちりばめられているのに、すごく読みやすい。主人公がホッキョクグマであることすら奇異でなく、普通に受け入れられてしまうような、ホッキョクグマの言動や描写のリアルさがすごい。
Although this book is written by a Japanese author, weirdly, I felt like I was reading something written abroad in a foreign language. The author Yoko Tawada has spent an extended amount of time in Germany and is even capable of writing novels in German. The fact that this book sounded very 'international' and 'global' in the level of viewpoints of this story was written must have been caused by this very international experience of the author herself.
日本人が書いている作品のはずなのに、どこか日本人の作品らしくないところが印象的。まるで、外国文学を読んでいるような心地がしました。それはきっと、多和田葉子さんがドイツで長く暮らしていることに理由があるのかもしれません。(ドイツ語で出版できるほど、語学に堪能な点、見習いたい!)とってもグローバルな視点から描かれていると感じます。
One of the very very rare books that made me feel so sad finishing the book. I really want everyone to read this.
読み終えるのが悲しくなるほど、ストーリーにひきこまれた魅力的な本。すべての人に心からおすすめしたい!!!
5/5
*****
More reviews available on my book blog Intermission Ambience
書評ブログの Intermission Ambience にも本のレビューを書いています。あわせてぜひご覧ください!