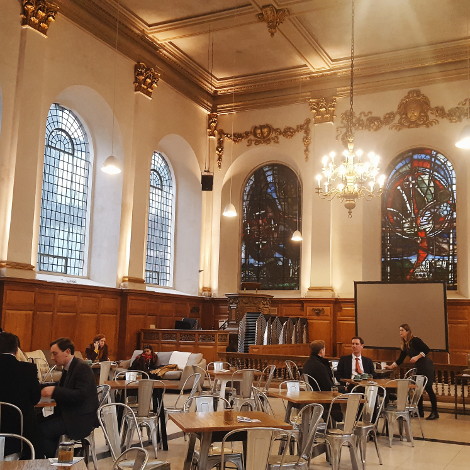 When I found this on Instagram, I pinned this spot straightaway on Google map!
Instagramで偶然発見し、即Google mapで保存したほど、気になっていたカフェです。
It's like a hidden oasis in the middle of crowded London. Just a walking distance from famous touristy St.Pauls. It looks very gorgeous on photos, but it was surprisingly cosy. Very spacious and quiet in a good way. It would be a nice place to bring a book/laptop/partner to spend a warm afternoon with. I thought I could stay hours and hours sipping their flavourful coffee.
都会の中のオアシスとでも呼びたくなるような場所。セントポールから徒歩ですぐです。写真で見るととても豪華絢爛にみえますが、実際はとってもやわらかい空気に満ちています。広くて、良い具合の静かさ。本やパソコン、大切な人と訪れて、心地良い午後を過ごしたい時にぴったり。おいしいコーヒーを片手に、何時間でもいてしまいたいような雰囲気です。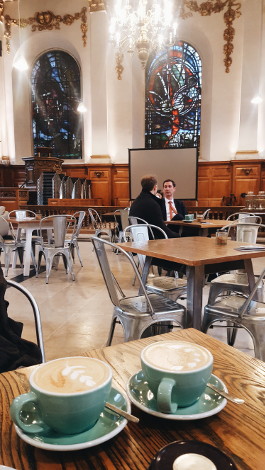 Very friendly staff perfected coffee with cute latte art! (Staff told me it's their new design, practising:-))
スタッフさんが「練習中の新作!」と言って持ってきてくれた、かわいいラテアートも味があってステキ。
My Lorraine quiche tasted so good. As it always the case in the most cafe food, it was relatively small portion though.
キッシュもとてもおいしかった!でも、どこのカフェでもそうですが、これだけでお腹いっぱいになる、という大きさではなかった。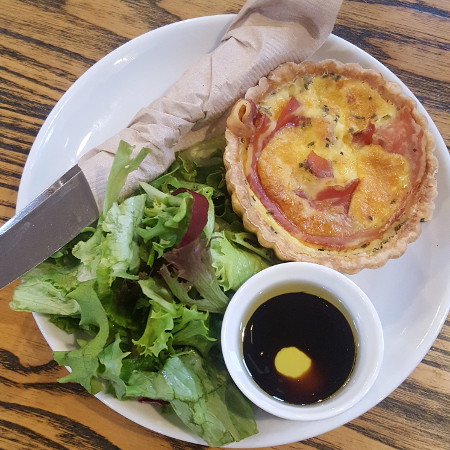 Their cakes tasted very 'home-made special', and I loved it!!!
ケーキはいかにも手作り!といった感じのほっこりするお味。私はこういうの大好きです。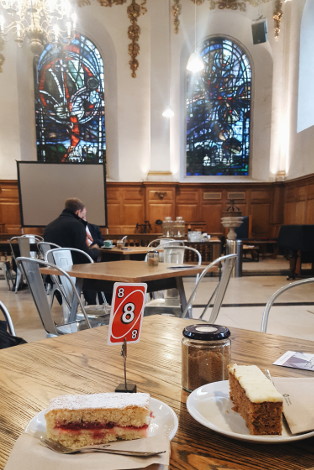 Interestingly, I spotted no obvious tourists there. Because it had a magical feeling to make you relax in this space, I was a little bit hesitated to introduce this place on my blog. I almost wanted to make it like my secret cafe! lol But to introduce my most favourite kind of cafe, where you would feel like you just want to sit back and feel the time passes gracefully… I decided to put this here.
不思議なくらいに、いわゆる「観光客」がいないこのカフェ。とってもリラックスできるステキなカフェなので、なんとなく、自分だけの秘密の場所にしておきたい気持ちもありました。笑
でも、こういう、のんびりと時間が過ぎていく贅沢を感じられるようなカフェこそ、私が一番好きなタイプのカフェ。ぜひ、いろんな方にそういう経験をしてもらえたらいいなと思って、記事にすることにしました!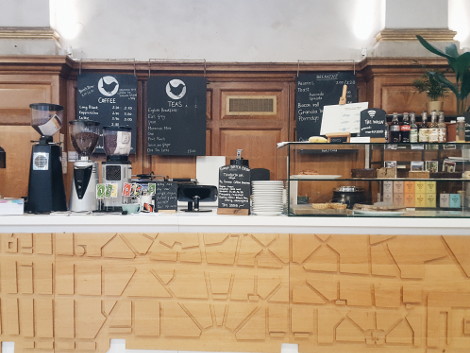 This is 'church cafe' located inside St Nicholas Cole Abbey. Maybe, this is the new trend in London likewise the crypt near the National Gallery.
St Nicholas Cole Abbeyという、現役の教会フロアを使用しているこのカフェ。教会カフェはもしかしたら今のロンドンのトレンドなのかもしれません。お気に入りで何度も通ったCryptも教会カフェでした。
The Wren is not the typical 'instagrammable' cafe, but because of that, I am deeply in love with it. With authenticity and simplicity, this cafe looked very British to me.
決して「インスタ映え」とかするタイプのカフェではないのですが、だからこそ感じるとっておきの贅沢。これこそイギリスっぽいと思うんです。