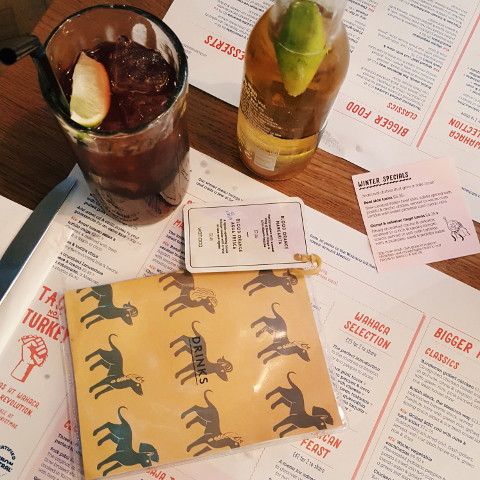 ロンドンのいいところ、それはいわゆるイギリスの料理以外にも、おいしい各国の料理が集まっているところ。
One of the good things about London is that you can find so many delicious cuisines from all around the world.
日本にいると、外食といえば私はいつも和食 or イタリアン派。メキシカンって、あまり食べたことがなかった。でもロンドンではけっこうみかけます。
When it comes to eating out in Japan, I tend to pick either Japanese or Italian (as they are common options and I like them.) Mexican was a new choice for me.
イギリスはご飯がおいしくない、なんてよく言われていますが、絶対そんなの嘘です。行くところを皆さん間違えているだけ!笑
By the way, many say food in the UK is awful, but that isn't true! Those who have been to the UK and could not find anything good, you picked the wrong place to eat! lol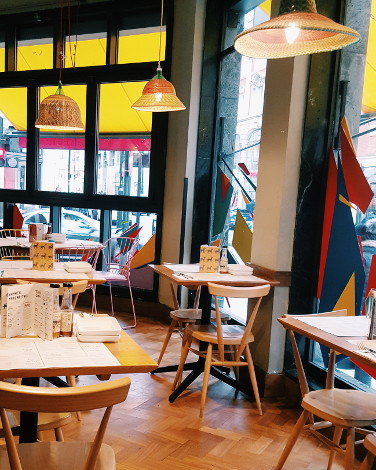 今回紹介するWahaca、オススメはシェア用のコース!お値段がとってもリーズナブルで、しかもすごくおいしかった。
In Wahaca, I recommend bringing your friends to eat 'sharing' menu together. The price was reasonably low and very tasty.
私はWahaca Selection、2人で25ポンドのセットコースを注文。チュロスとコーヒーをデザートで追加し、いただきました。
We ordered 'Wahaca Selection' which was 25 pounds for 2. Churros with chocolate and coffee for deserts are must!!!!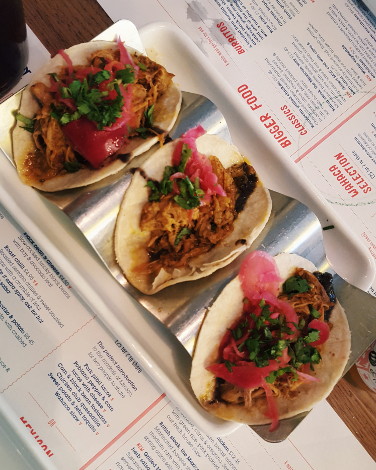 最初に出てくるのはタコス。
2種類あったのですが、どちらもペロリと食べてしまいました。
Two kinds of tacos were tasted very good. I could have eaten another plate.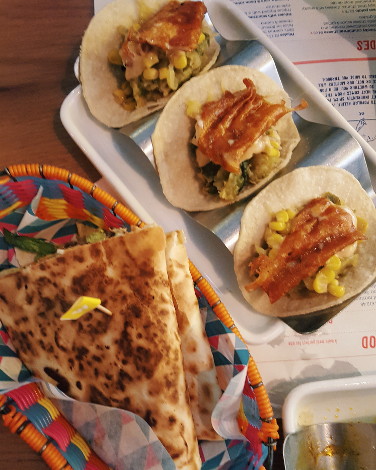 さつまいもとフェタチーズを挟んだサンドがお気に入りでした。
写真を撮り忘れてしまったのですが、サラダのような料理もありました。
Sandwich type of food which I forgot the name, with sweet potato and feta cheese was my favourite. I don't have a photo, but there was salad type of plates as well.
旅行中はどうしても野菜不足になりがちだったりするので、野菜が多く使われているメキシカンはぴったりかも。ロンドンならではの多民族感も味わえますしね。
While travelling, it is likely the case that you get not enough vegetables. Mexican cuisine with lots of vegetables might be a good option. Also, it makes you enjoy the multicultural atmosphere that London uniquely has.
シェアメニューのボリュームは、カップルでお腹いっぱい食べられる量で大満足です。
The volume of the sharing menu was plenty for the couples to enjoy.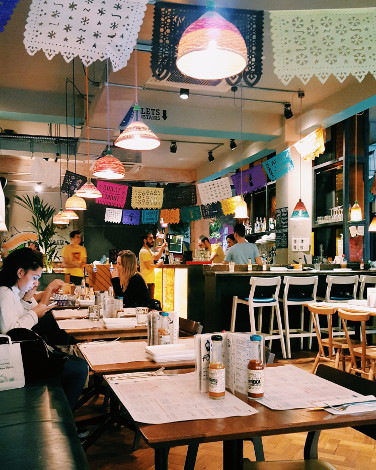 店内のインテリアもメキシカンな雰囲気バッチリで、かなり良いと思いました。
The lively and colourful decor was a great match to the food.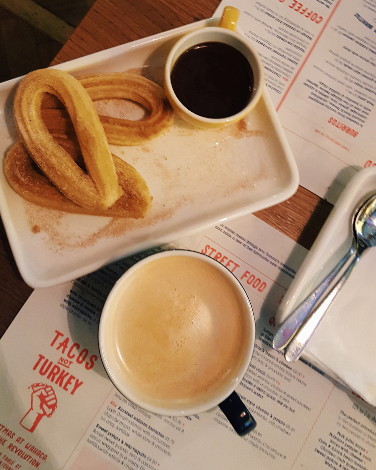 ロンドン市内にも何か所か店舗がありますが、Oxford Street から徒歩で行ける店舗が観光には便利かもしれません。
There are many Wahaca around Central London, across the UK. For tourists, the one located near Oxford Street might be accessible.
居酒屋のように飲み物と小料理で楽しんでも、ファミレス感覚でファミリーで訪れるのもアリな空間。フレンドリーな接客も印象的でした。
You could visit here as if you go and grab a drink and nice food at an izakaya with friends, or with kids like you go to a famiresu.