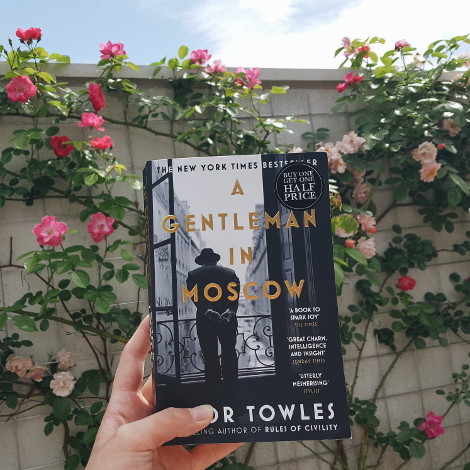 Reading this book reminded me a lot about The Great Gatsby. It had a similar subtle flamboyant feel in the setting of the story. The personality of very noble and sophisticated gentleman made me so impressed by the elegance of his lifestyle and ways of thinking.
どことなくグレート・ギャツビーを思い起こさせる一冊でした。華やかでキラキラした世界。そして主人公であるジェントルマンのエレガントなふるまいやライフスタイルが、なんだか読んでいて心地よかった。
It had a good essence of the historical background of Moscow around 1920s. Because the main character the gentleman is under the house arrest at the Metropol hotel, the story did not really mention anything about the world outside of the hotel. This seclusion from the outer society and how people react to this situation were well described in this book.
1920年代のロシア、モスクワが舞台ですが、主人公がホテルに自宅軟禁されているという設定のため、歴史背景描写は必要最低限。それなのに効果的に時代の空気を感じさせます。軟禁状態にあるという状況と、それをどのように感じ日々を過ごすのか、そういう心境を、とても丁寧に描いたストーリーです。
Although I really enjoyed this book, to be honest, I was not satisfied with the ending. That disappointed me a lot, especially after reading quite a lengthy novel like this.
素直にとても良い本であるとは思うのですが、私は最後の展開がどうしても好きになれなかった。400ページ超えのかなりボリュームのある一冊だったからこそ、なんだかがっかりしてしまいました。
I really liked how beautifully contrasted the scenery of outside through windows from the hotel to his very quiet life in the hotel room. I thought this book could be better in the live action version, as it depicts all the details. And, it seems like there will be a TV adaptation starring Kenneth Branagh. I think it's a perfect casting!!!
ホテルの窓から見える外の景色と、ホテルの中の空間のコントラストがとても印象的なこの一冊。景色をとても美しく詳細に描いている本なので、きっと映画化したらステキだろうと思って読んでいたのですが、どうやらKenneth Branaghが主演でテレビ放送するそうです。確かに彼ならジェントルマン役のイメージにはぴったり!
3/5
*****
More reviews available on my book blog Intermission Ambience
書評ブログの Intermission Ambience にも本のレビューを書いています。あわせてぜひご覧ください!