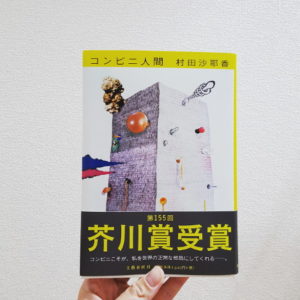 Because of its catchy title and the very interesting background of the author (she works for convenience store), this book was everywhere when she won the Akutagawa Prize in 2016.
2016年に芥川賞を受賞した「コンビニ人間」、キャッチ―なタイトルと、作者自身もコンビニで働いているという経歴から、すごく注目されていました。
Because I tend to pick the book which is more relatable to myself, this book Convenience Store Woman was something I have been avoiding to pick up. I decided to give it a try when I found out it is finally translated into English…
私はより共感できそうな主人公の本を選んでしまう傾向にあるので、この本はどちらかというと避けてきた一冊。でも今回、英訳が出版されると聞いて、なんとなく手に取ってみました。
Surprisingly, I really enjoyed reading this book. It was about the life of a woman who finds it hard to assimilate with the societal norm to behave 'normally' in Japan. The main character works for the convenience store as a part-timer although she is mid-thirty.
意外にもすごく良くて、一気に読みました。社会の「普通」になじむことができない主人公。30代も半ばで未だにコンビニでバイトをしている。
What it means to be 'normal' and who decides it is 'normal'? Contrasting the main character's viewpoints to monotone manualised behaviour and scenery of convenience store, the book well depicts the 'unusuality' in Japanese society. (maybe it is not limited to Japan??? It could be applied to any modernised society.)
「普通」って何で、誰か決めるのか。主人公の視点と、マニュアル化されたコンビニの単調な仕草や景色。日常の中の異常さを描く作品です。
How people treat staff at a convenience store, how they act like emotionless machines, and how people see you when you are not considered 'normal' in the society? All of these topics made me finish this book in all in one go!
お客さんからのコンビニスタッフへの態度、無感情の機械のようにマニュアルに沿って動く店員、「普通」でない人に社会はどう反応するのか。そういったテーマにぐんぐん引き込まれていきました。
Also, it made me feel uncomfortable reading about the unlikable main character and the reactions towards her from people surrounding her. It was so vivid and real, how people treat all those people who are not 'normal.'
この不思議な主人公への、周りからのリアクションを読んでいて、少々居心地が悪い気分にもなりました。「普通でない」人への反応があまりにもリアルで鮮明に描かれています。
As I am the one feeling a bit uncomfortable about these 'safe options for life.' Japanese lifetime choice is almost like a railroad. Your path is already given to you. You are already on a track, based on the level of your 'specification,' such as male/female, degree and locations of your birth. Getting out of these ' right paths' could be seen as career suicide. For me, going abroad for study after getting into relatively great university, or not employed in my mid-20s were regarded as one of the suicidal acts to so many people.
私はいわゆる「無難な選択」をしてこなかった人なので、この本がさらに響きました。まるで電車の線路のように、大学や性別、生まれで決められた道が、「スペック」に合わせてあらかじめ用意されている。それにそって進めば間違いない。そういう価値観。日本でそれなりの大学に行ったのに海外へ行ったことや、20代も半ばで未だに働いてないで学生をしていること。いろんな人から遠回りじゃない?と言われてきました。
Although I might not be that much of a 'non-normal' person compared to the main character in this book, nor I want to be like her, I still found it very interesting to read this.
私はこの本の主人公ほど「普通じゃない」わけではないかもしれませんし、彼女みたいになりたいわけでもないのですが・・・この本の中に書かれていることが、とても深く心に伝わってきた感じがしました。
4/5
I would love to re-read this in newly published English translation as well!!!
ちょうど英訳が出ました。英語版で近々ぜひ再読したい。
*****
More reviews available on my book blog Intermission Ambience
書評ブログの Intermission Ambience にも本のレビューを書いています。あわせてぜひご覧ください!