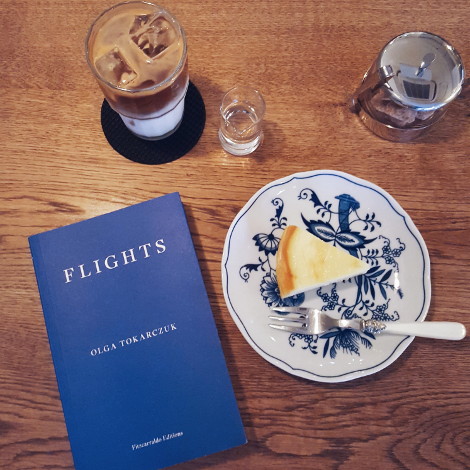 Flights won this year's Man Booker International Prize. I bought this book when I was just returned from a trip to Poland, even before it's shortlisted. This chic blue Fitzcarraldo Edition's cover took my attention at Foyles. Since I was deeply in love with the scenery of Poland, I decided to try something from a Polish author.
「Flights」、今年2018年のMan Booker International Prizeを受賞しました。私がこの本を手にしたのはノミネートされるずっと前、ちょうどポーランド旅行から帰った頃。Foylesで、この青いシックなFitzcarraldo Editionの特徴的な表紙につられて手に取りました。ポーランドの景色の虜になっていた私。ポーランド人作家の描く世界観に興味があり、この本を選びました。
This book was very unique. Although I found this book in the fiction section at Foyles, I was not sure if it was truly a 'fiction' novel. Most of the time, I was feeling like reading an academic nonfiction book. But it suddenly changed to a history description, fairy-tale, or even a journal style of writing.
とても個性的な本です。フィクションの棚で発見した本のはずなのに、読んでいる最中はほとんど、アカデミックなノンフィクションを読んでいるような気分。でも、それが突然、歴史小説のような、おとぎ話のような、はたまた日記のような雰囲気にと、七変化します。
One most interesting thing about this book was that it was hard to describe what the story was all about.
どんな本だったのか、どんなストーリーだったのか、説明しにくい。というのも特徴の一つ。
The book is divided into many small parts with titles. Those short story somehow describe 'something' related, but not directory linked to each story. I felt like examining a collage of beautiful old pictures. So many different pieces make the one big piece of art, but the small pieces do not directly describe nor tell anything. You need to finish the book to see the bigger picture, like a collage.
この本は、タイトルがついた、いくつもの小さな章に分かれています。その章が共通の「何か」について書かれているような気もするけれど、直接的につながりあったストーリー、というわけではない。私は、まるで古くて美しい写真で作られたコラージュ作品でも見ているかのような気持になりました。いくつもの小さなパーツがあって、そのひとつひとつがそれぞれ違う。集まって、ひとつの大きなアートになる。小さなパーツひとつひとつが何かを語っているわけではない。でも、読み終えて、全体像を見ると、「何か」がある。そういう感じです。
There were beautiful pages with old maps as well. Those maps do not really relate to the story either. But it enhanced the experience of reading this unique and artistic book.
美しい古い地図が挿絵のように入っています。この地図も、特にそのストーリーと直接的に関係しているわけではないんです。でも、「この本を読んでいる」っていうその体験が、地図を見ることで深まったように思えるので不思議です。
It was so different from any other books I have read, in style it's written. It's not a page-turner kind of book. But I really enjoyed the feeling of reading this.
今まで読んだどんな本とも違う。決してページ・ターナーでもない。それなのにすごく惹かれ、夢中になって読んだ、ステキな一冊です。
4/5
*****
More reviews available on my book blog Intermission Ambience
書評ブログの Intermission Ambience にも本のレビューを書いています。あわせてぜひご覧ください!