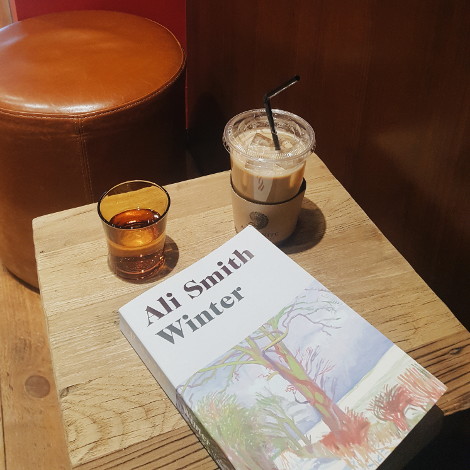 Winter is the second book from Ali Smith's seasonal series. I really enjoyed her first seasonal book, Autumn. I've been waiting for so long to get Winter in paperback! I should say I enjoyed Autumn more than Winter, but it does not mean I did not like Winter.
Ali Smithの季節シリーズの2作目がこのWinterです。1作目の Autumnがとても良かったので、Winterのペーパーバック版が出るのを待ち遠しく思っていました。正直、私はWinterよりもAutumnの方が好みだった。でも、決してWinterが悪かったわけではなく、良い本です。
Winter was a great book, describing the sentiment of politics and the current mood of the UK very very well. Also, the story is set during the Christmas Holiday season. Reading this reminds me of my own experience, very depressing dark, grey weather and homey feeling, spending time with British family (my fiance's family) for Christmas.
Winterは、イギリスの政治や近年の様子を本当によく描いているのがすばらしかった。物語の舞台はクリスマスなので、私が過ごしたロンドンの薄暗くて、でもあたたかいイギリスの家族(フィアンセの家族)と過ごしたクリスマスを思い出しながら読むことができました。
However, the middle part of the book somehow made me slow down reading. As Autumn was constantly humorous and fun, I expected Winter to be like that as well. I was almost about to completely stop reading, just before it gets interesting again in the last part. Maybe, if I had more knowledge about British history and politics, the middle part could be more enjoyable.
でも、物語の中盤はどうしても本の世界に入り込めず、少しずつ読むテンポが遅くなっていきました。Autumnは常にユーモアたっぷりでずっとおもしろく読めたので、Winterにもそんな読書体験を期待していました。終わりが近づくにつれて、また物語はステキな世界観に戻っていったのですが、もう少しでこの本を読むのを本当にやめてしまおうと思ったほど…イギリスの歴史や政治にもっと詳しかったら、もっと中盤も楽しめたかもしれません。
やはりイギリス感が本当に強い作品を読みこなすには、私はまだまだ文化面・歴史面で勉強不足なのかもしれません。
The ending of this book was very sentimental and unexpectedly beautiful. I really hope the new seasonal book 'Spring' will come out soon.
この本の終わりは想像以上にセンチメンタルで、ほんとに美しかった。季節シリーズの3作目、'Spring'も早く出版されないかなぁ。
4/5
*****
More reviews available on my book blog Intermission Ambience
書評ブログの Intermission Ambience にも本のレビューを書いています。あわせてぜひご覧ください!