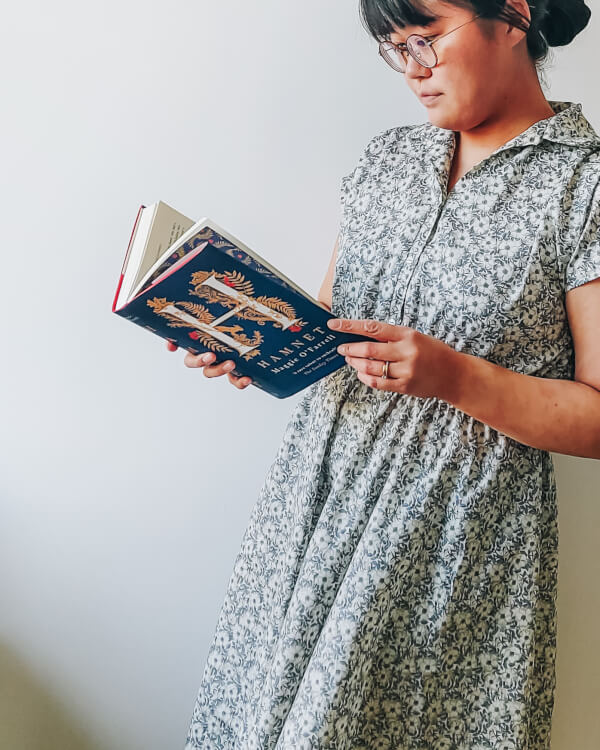 I was part of the #HamnetReadAlong and enjoyed this book so much that I had to write a little review about it (which I don't normally do for the readalongs!!!)

This book was about the beautiful love and loss of the family of famous playwright William Shakespeare. Written through the eyes of his wife Anne Hathaway, it perfectly captured the relationship between parents and children, siblings and relatives in fine detail. In this book, Shakespeare's name is never mentioned. The effect of this is to better spotlight Anne, and brings a completely new perspective to the reader. Also, it's worth noting that in the book Anne is called Agnes and the title role #Hamnet is actually Hamlet, who was their son and died in the plague. The famous play Hamlet was written shortly after his death.

It was such a wonderful reading experience to find out more about the historical figures who have previously not been in the spotlight. This book allowed me to see Shakespeare as a family member rather than a noteworthy playwright, and made me think of all those wives who have not historically received the attention which must have been deserved!

With lots of countryside scenery and a strong storyline with nature and plants, the book reminded me of my visit to Stratford-upon-Avon a few years back.

I was a bit conscious about reading something related to loss and the pandemic at this very moment. But I was so glad that this book was very empowering. Agnes was such a strong and loveable character.

Such a fantastic book – I will remember it for a long time to come! Thank you so much for this great opportunity @tandemcollectiveuk @headlinebooks #gifted

シェイクスピアの家族を、妻のアン・ハサウェイの視点で描いた1冊 #Hamnet を読み終えました。
インスタグラム上で他の #bookstagrammer さんたちと一緒に読み進めていく #ReadAlong 企画に参加していました。
シェイクスピアの家族の物語であるにも関わらず、あえて彼の名前を一切文章に登場させない作者の書き方がすごかった。
妻のアン・ハサウェイ(この本ではアニース)にきちんとスポットライトが当たり、あくまでもアニースの視点で、家族の一員としてのシェイクスピアの姿が浮かび上がってきました。
タイトルのハムネットとは彼の息子ハムレットのこと。ペストで亡くなっています。死後書かれたのが有名なハムレットの物語です。
家族の愛や哀しみを乗り越えること。あたたかい気持ちになれる1冊。普段、こういう企画に参加してもあまりレビューを書くまでには至らないことが多いのですが、この作品は心に残りました。
*****
More reviews available on my book blog Intermission Ambience
書評ブログの Intermission Ambience にも本のレビューを書いています。あわせてぜひご覧ください!