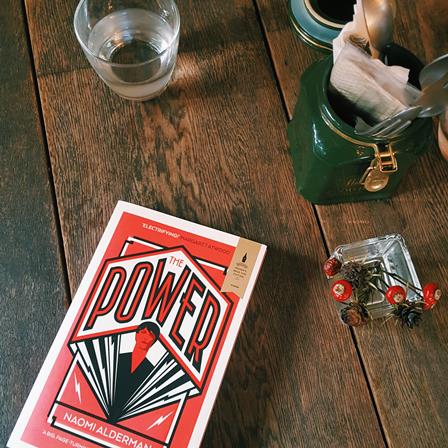 It is always the struggle not to spoil any important bits of the story while I review the book I especially enjoyed.
ネタバレしないようにレビューするのって本当に難しい。自分が心からおもしろいと思った本は特に!
Since I rarely read science fiction, I was not very keen on choosing this book when I found it ranked 3 for fiction ranking at Foyles. But something took my attention and decided to give it a try. Surprisingly, I loved this book so much that I even forgot to sleep!
サイエンスフィクションは、私の好きなジャンルではないので、ロンドンの書店Foylesでこの本がランクインしていた時も、そんなに心ひかれてはいませんでした。でもなぜか、ふと手に取ってみたこの1冊。大当たり。眠る間すら惜しんで一気に読みました。
It is the story of the world where women obtained the electric power. With their new ability, they became physically stronger than men, altering the world's power balance upside down.
この本で描かれるのは、女性が特別な力を持った世界。身体的に女性が強くなった社会において、いわゆる「伝統的な」社会における、男性が強いという力関係が反転します。
This setting made me rethink about the vulnerability of women and the history of women's progress as 'the weak ones.' Physical strength influenced tremendously on female position. I really enjoyed imagining this 'what if' story where women can overtake everything from men because they are just 'strong.'
女性の「弱さ」や、男性側の身体的な「強さ」が、女性の立場に歴史的にどのように影響していたのか。そんなことに、ふと思いを馳せたくなる本です。この小説においては、ただ「強い」が故に、男性が担ってきた立場をどんどん取り返していく新しい女性の姿に、読んでいてスカッとするのも事実。想像するのが素直におもしろかったです。
The Power is a must read for everyone, not just women, everyone who wish to imagine the world where the equality can be guaranteed regardless of their sex. The book gives you a good perspective that the physical strength mattered so much in history, in creating this current world causing so many women sacrificed their career and future under the inequality and imbalanced power structure the society contains.
The Powerは、女性だけでなく、平等な世界を望むすべての人に心からオススメしたい。
I have written a very controversial argument (misleading perhaps…), but this book is fun to read!
難しいことを書いてしまいましたが(笑)単純におもしろい本です!
4/5
(2018/03/13 Updates * 追記)
The Power に関する記事をもうひとつアップしました。
ぜひこちらからごらんください。
New post about The Power updated. Read it from the link below.
The Power / Naomi Alderman * Why I want people in Japan to read it. 日本でぜひThe Powerを読んでほしい理由
(2018年7月5日追記)この秋、河出出版から日本語版ついに出ます!!!
*****
More reviews available on my book blog Intermission Ambience
書評ブログの Intermission Ambience にも本のレビューを書いています。あわせてぜひご覧ください!