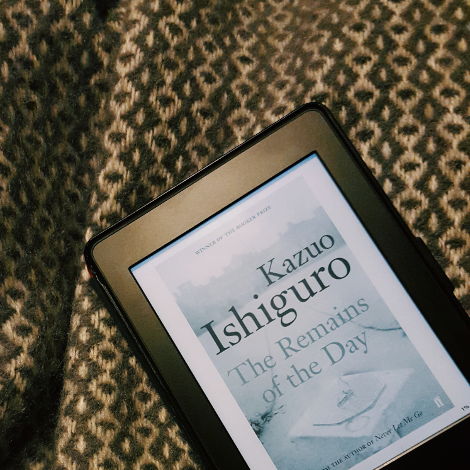 ノーベル賞を受賞し、日本でもその名が一気に知れ渡ったカズオ・イシグロ。ずいぶん前にNever Let Me Go(日本語版は「わたしを離さないで」)を英語で読んでいて、すごく気に入っていた作家です。
No need to explain who he is. The Nobel prize winner, Kazuo Ishiguro. I have read 'Never Let Me Go' before, and it was one of my favourite books.
今作はブッカー賞を受賞した、代表作。
This one, 'The Remains of the Day' is his masterpiece, it won the Booker prize.
静かで、情緒ある言葉の流れや空気感が、彼の作品の特徴だと思うのですが、今作はその言葉遣いと、物語の中の風景がぴったりマッチ。SFチックだったNever Let Me Goとは全く違う。まるで、ドラマ ダウントン・アビーの世界にそのまま入り込んだかのような趣のある世界観。
I think his writing is always quite and elegant in style. As well as very atmospheric and nostalgic. The tone of his writing perfectly matches to the personality of the main character, the old British butler. While I read, I felt as if I was seeing and living in a world of Downton Abbey!
主人公の執事がひたすら ひとり語り をしているこの物語、ただただゆったり流れていくのかと思いきや、最後の方で語られる主人公の想い、ずっしりと心に残ります。また、随所にちりばめられた、当時の政治思想や文化が、物語に奥行きを感じさせます。時代の流れ、変化、そういうものをじっくりと考えたくなります。
The story is all about the reminiscence of the main character, Stevens. Slow and peaceful, while it has the element of the politics and culture that this specific era set in the story had to experience. Especially, the very last part was great. I really wish everyone not to see the spoiler of the very sentence that made this book sensible and beautiful.
衰退していく英国貴族と、その執事としての誇りや、老いていく自分と向き合う時間。
いつまでも、物語の余韻に浸っていたいような本。極上の一冊です。
Duty, responsibility and pride as a perfect English butler, and the time to face his life and thoughts as an old, ageing man.
Very touching. Just want to bask in the afterglow of the book. A book of the finest.
5/5
もちろん日本語版も出てます!でも英語の文体がとても美しくてうっとりしてしまうレベルなので、英語版がオススメ。
*****
More reviews available on my book blog Intermission Ambience
書評ブログの Intermission Ambience にも本のレビューを書いています。あわせてぜひご覧ください!