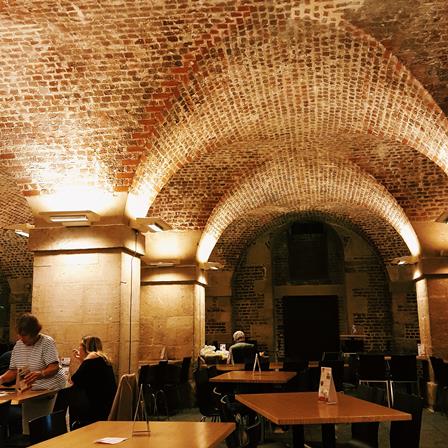 Tasty and affordable meal in the central London right next to the National Gallery!!!
観光の合間に休憩にぴったりな、リーズナブルでおいしい、ロケーションもバッチリなスポット。ナショナルギャラリーのすぐ真横にあります!ロンドンの中心で、このクオリティ、このお値段は破格です。
It is a bit too crowded during the lunch time, but there is enough seating available, so it's relatively easy to find seats even during the peak time!
お昼時には少々混みあいますが、スペースが広いので席は簡単にみつかる。
The cafe is located in the basement of the church, St Martin-in-the-Fields.  As the name shows, it is in the crypt. lol But it's surprisingly cosy and has a good atmosphere!
St Martin-in-the-Fieldsという教会の地下にあるこのカフェ、足元はお墓!ちょっと洞窟のような空間がユニークです。お墓とは言ってもおどろおどろしいような雰囲気はまったくないのでご安心を。不思議と居心地がいいのがポイントです。
The entrance is the left-hand side of the church, outside. It looks like a glass lift! Lol
カフェへの入り口は教会向かって左側、ガラスのエレベーターのような見た目のところ。(みればきっとすぐわかります!教会の建物の外、左側です。)
My favourite is crème brûlée served during the tea time. The hot meal set which comes with your choice of soup, small bread and apple crumble (with lots of custard :-)) is also excellent.
私のお気に入りはティータイムのメニュー、ブリュレ!お昼や夕飯時に出ているホットミールのセットもよく食べていました。選べるスープ、パン、アップルクランブルのセットなのですが、このアップルクランブルがたっぷりのカスタード別添えで最高においしい!
The vegetarian menu is available. It tastes good especially when you feel tired of all greasy restaurant/pub menu.
ベジタリアン用のメニューもとてもおいしいので、がっつりした油っこい食事に疲れてしまった時にはオススメです!イギリスはパブご飯とかすごくおいしいのですが、どうしても野菜不足になりがちですからね。ベジタリアン用のメニューがありがたいです。
Another thing to note. Their evensong is fantastic!
ちなみに、教会のevensongの礼拝は音楽がメイン、コンサートのような雰囲気。誰でもウェルカムな教会なので、足を運んでみてください。ステキな時間が過ごせますよ!
Free Wifi もあります!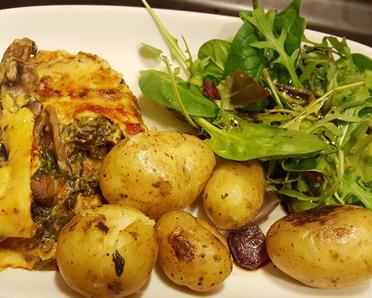 Vegetarian / ベジタリアン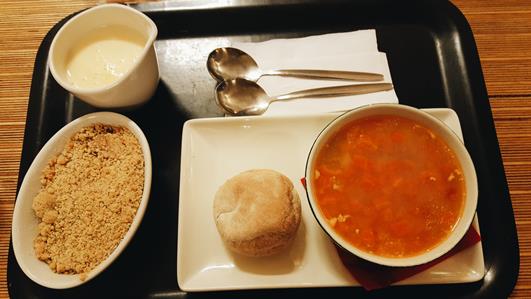 Hot meal set / ホットミールのセット。写真だとわかりにくいですが、かなりボリュームあります。女性ならおなかいっぱいになってしまうくらい。