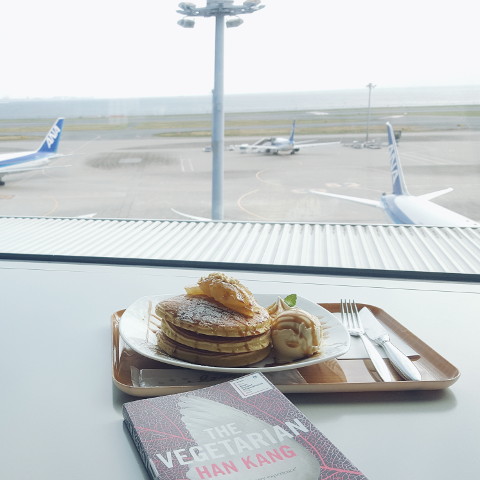 Very sad and disturbing book. Violence and creepy scenes. But, it was such a powerful book to make you experience the story.
とても悲しくて悲惨な物語。暴力と、気持ち悪くなるようなシーンもたくさん。でも、まるで物語の中の出来事を目の前で体験しているような気分になる、力強い一冊です。
You feel the characters very close to you, while they all are somehow not ordinary. Reading this book made me uncomfortable, thinking about all the discomfort I experienced in daily life.
登場人物たちはどこか「普通ではない」人々ですが、そんな彼らを身近に感じることができるのがこの本のすごいところ。この本を読みながら、私は日常生活で感じる様々な不快感について、考えさせられました。
As the title shows, the main character Yeong-hye is becoming vegetarian (I would say she is more like a 'vegan'). The story describes the struggles of her family and relatives.
タイトルが「菜食主義者」である通り、主人公のYeong-hyeがベジタリアンになることが物語の出発点。(ベジタリアンというより、ビーガンに近い描写ですが。)家族や親戚の困難について書かれています。
The story is divided into three parts, and each part is told by different characters. Although the main character is always Yeong-hye, seeing the story from the other characters' point of views were very interesting. Especially the scene with Yeong-hye's sister in part 3 was touching.
3部構成の本ですが、それぞれが別のキャラクターの視点から描かれています。物語の中心にいるのは常にYeong-hyeですが、他のキャラクターの視点からも見ることで、一層物語が深まるように感じられました。特に3章の、Yeong-hyeの姉の視点、胸に迫るものがありました。
The story was almost like a physiological horror/thriller. I could not stop reading once I start. The narrative was always quiet and made me think about 'discomfort' in depth. Why people face this uncomfortableness, and how people always try to avoid them.
もはやサイコロジカル・スリラーやホラーのような物語で、一度読みだしたら止まることが難しかった。とても静かな語り口で、対人関係における「不快感」について深く考えさせられます。どうして人は「不快感」を感じるのか、なぜ人はそれを避けようとするのか。
This is not my favourite book, because I felt negatively emotional reading this. But the book impacted me, even surprised me with the unique experience I have ever had with books.
この本、決してお気に入りの一冊とは言えません。読みながら、とてもネガティブで感情的な気持ちになってしまったんです。でも、それだけのインパクトがある、読みながらびっくりしてしまうような本には初めて出会いました。
4/5
日本語訳も出てます。
*****
More reviews available on my book blog Intermission Ambience
書評ブログの Intermission Ambience にも本のレビューを書いています。あわせてぜひご覧ください!