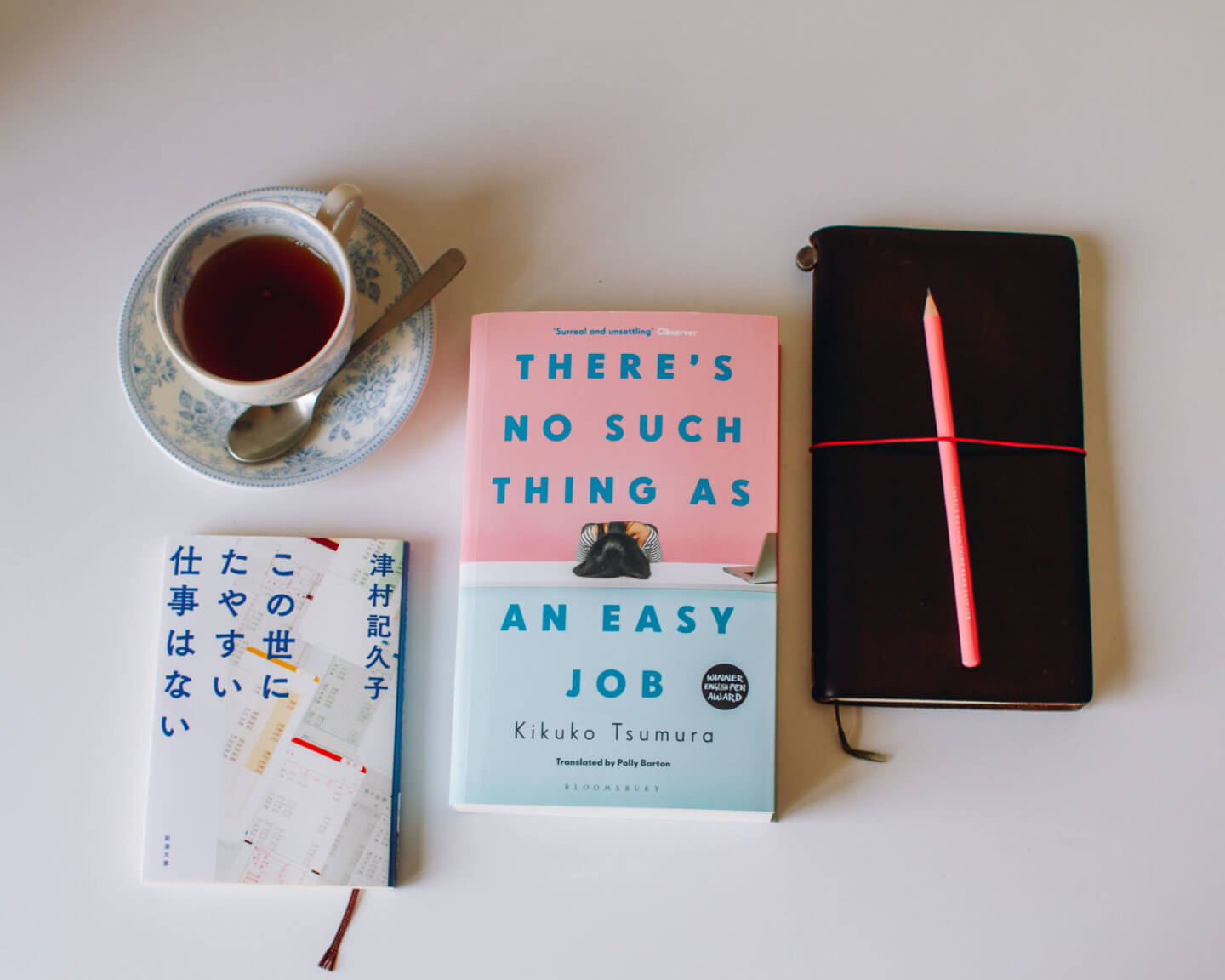 I think your job is something everyone struggles with to some extent. The type of work, the hours, relationships etc. I enjoy my job, but even I feel like I want something easier or perhaps 'more fun', sometimes.
仕事って、誰しも何らかの不満や悩みを抱えているものだと思います。それは仕事の内容にかもしれないし、労働時間や人間関係かもしれない。仕事を楽しんでいるつもりの私ですが、時々もっと楽な仕事や、もっと面白い仕事があるはずだ…なんて思ってしまう時もあります。
I first read this book in Japanese when I had just started working in London. I was really struggling to get used to a whole new environment and was exhausted with thoughts of how I needed to commit to the job and prove to others that I could do things well. But this book really ended up making me feel better, telling me – as the title says – There's No Such Thing As An Easy Job!
私はこの本を最初に日本語で、ちょうどロンドンで働き始めた頃に読みました。新しい環境に馴染むのに必死で、出来る事を証明したいと張切るあまりに疲れ果てていた頃。この本を読むことで、本のタイトル通り「この世にたやすい仕事はない」と、なんだか勇気づけられる想いがしました。
The protagonist is after just that – an easy job. Something like 'watching over collagen extraction'. She's had her fill of burnout at a job she'd previously worked at for a long time. The five chapters of the book each describe, in turn, the unusual jobs she ends up pursuing next. On the face of it, they all sound quite easy, but of course, the protagonist starts finding each has its own unique difficulties…
主人公は長く務めた仕事を辞めたばかり、「一日コラーゲンの抽出を見守るような」ストレスの少ない仕事を探し求めます。5つの章それぞれで、こんな仕事があるの?というような奇妙で摩訶不思議な仕事を経験していきます。どれも単純で簡単そうに聞こえるような仕事なのですが、次第にどの仕事でも難しさと直面していきます。
The more serious and committed to your job you are, the more the job will consume first your thoughts and then your entire life. In an era of 'work-life balance', people are aware of the importance in re-defining your work as just 'work'; to allow you to better see and enjoy your life outside of office hours. But no matter how you try to preserve the balance, jobs have a way of sweeping you up and you are ultimately powerless to resist. This book clearly depicts that precise moment when you feel completely overwhelmed.
仕事は真面目に取り組めば取り組むほど、考えや生活をどんどん支配していく…ワーク・ライフ・バランスの大切さは世間でも理解されている現代、仕事は仕事と割り切って、仕事以外の時間をも充実させるべきだとわかってはいるけれど。それでも仕事はどんどん自分の時間を削っていく、のみこまれてしまう…この本はそんな瞬間を的確に描写していると思います。
With lots of humour and interesting settings, this book will surely help you feel better about work and come to terms with how to build a sustainable relationship with your job.
思わず笑ってしまうシーンがたくさん。風変わりな設定も良い!読み進めるうちに主人公に共感し、仕事との関わり方について向き合う気持ちになる1冊です。
One of the things I want to emphasize about this book is that, comparatively speaking, it does not require much prior knowledge about Japan in order to fully enjoy the story. The themes are quite universal. Lots of newly translated Japanese fiction is often more to do with the societal norms in Japan and I have seen some English readers find it a bit hard to comprehend all the nuances and critical ideas the authors were trying to make. With that in mind, this book might be a great starting point for those who have not tried Japanese fiction before, due to this.
今回、英語版が出版されることになり、英語版を読み比べました。近年、英語訳される作品は社会問題を大きく扱う本が多く、日本の文化や社会について知らないと、ニュアンスや作者の言いたいことがいまいち掴めない、なんていう残念な感想を聞くことがあります。その点、本作は日本についての知識が無くても、英語圏の人に「仕事」というユニバーサルな問題に共感して読んでいただける本なのかもしれません。
Polly Barton's translation was very readable and maintained Kikuko Tsumura's humorous writing style perfectly! Very beautifully done!
Polly Bartonさんの手掛けた翻訳も、作者のユーモアをきっちり掴んでいて、イキイキとした英文になっていました。とっても良い翻訳、ステキです!
The book will be published on 26th November. Thank you Bloomsbury Publishing for sending me the finished copy in advance!
英語版はイギリスで11月26日に出版です。
*****
More reviews available on my book blog Intermission Ambience
書評ブログの Intermission Ambience にも本のレビューを書いています。あわせてぜひご覧ください!