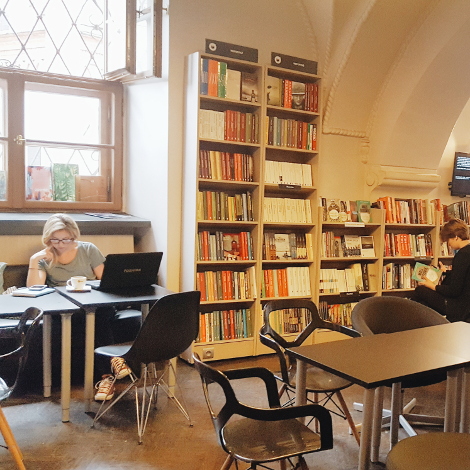 Krakow was a city of the bookshop. I found a small local bookshop in every corner of the street. It was usually full of locals, spending time choosing a book to take home with.
クラクフは、まるで本屋さんの街。街を歩いていると、たくさんの小さなローカルの本屋さんを見つけました。しかもどこも、本を熱心に選ぶローカルたちでいっぱい。決して空っぽの本屋さん、という様子をみかけなかったのがすごい。
As a book lover, I really wanted to have that bookish experience spending time at a local bookshop. The trouble was that it was very hard to find English books there. Instead, I enjoyed having nice coffee inside the bookshop, surrounded by full of polish books, and book-loving Polish locals.
本が大好きな私。私も、そんなローカルたちと一緒に本を選ぶような経験がしたかったのですが、もちろんポーランド語はわからないし、英語の本を取り扱う書店も少なかった。だから、お散歩中にこのブックカフェを発見したときは本当にうれしかった!本に囲まれながら、読書や仕事をするローカルたちに混ざって、コーヒーが飲める、ステキでした。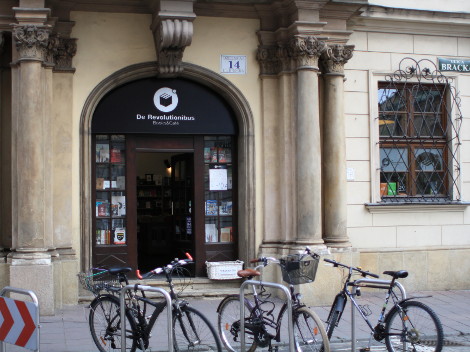 I found De Revolutionibus just near where I stayed. It's rather modern styled decor reminded me of Foyles in London.
このDe Revolutionibus 、私が泊まっていたミニホテルのすぐ近くにありました。モダンなインテリアは、ロンドンのFoylesを思い出します。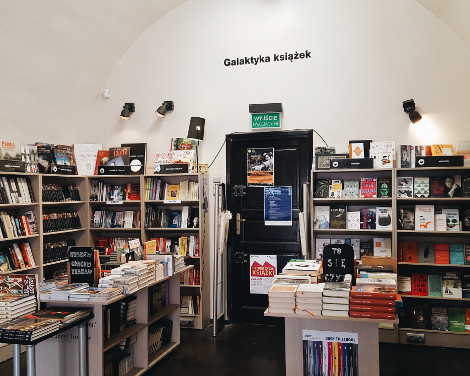 Generally speaking, I prefer the classical decor for the bookshop. But this place was unusually cosy. Every food I tried here tasted so good and relatively reasonably priced. Many staff here speak fluent English, and they were so helpful.
どちらかといえば、クラシカルな内装の本屋さんの方が好みですが、ここはすごく居心地がよかった。滞在中に、何度か来たのですが、どのメニューもとてもおいしかった。お値段も決して高くない。英語が話せるスタッフさんも多く、安心でした。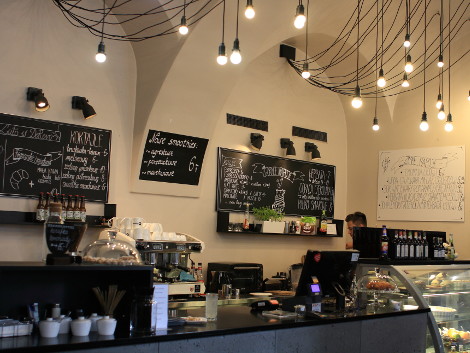 I came back here many times for coffee. Lemonade on this photo tasted refreshing and good as well 🙂
暑かった夏のクラクフ。写真に写っているレモネードが最高においしかった。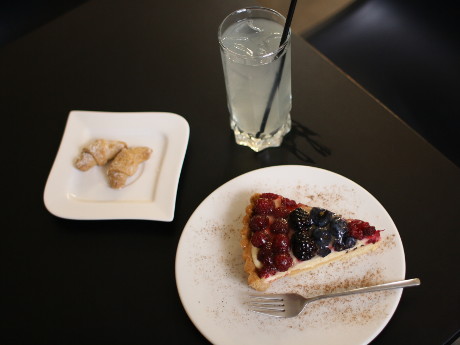 I could not find books to take home, but there was a variety of stationary selection (especially their postcards were great), and I was tempted to buy few. In the end, I decided to buy one of this notebook, which is recreated by the actual second-hand book.
買いたい本をみつけることはできませんでしたが、この本屋さんは文具類も豊富!(ここのポストカードが特におしゃれでオススメできます。)私はこの写真のノートを1冊買いました。これ、古本の表紙を残し、中をノートにつくりかえたもの。ステキです。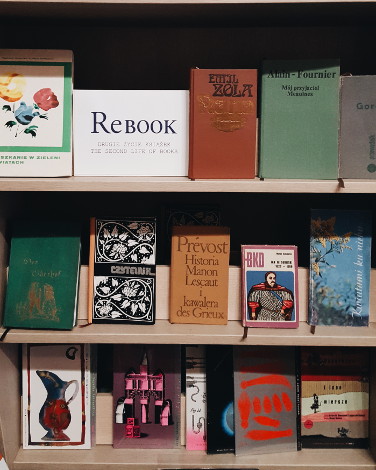 It's just 5 mins walk from the city centre. Despite its good location, the area around this bookshop was very quiet. If you are tired of all those busy touristy spots around the central plaza, this is the best place to sit down for a while.
街の中心からは歩いてたった5分ほどですが、ロケーションが良いわりには人があまり訪れていない、静かでゆったりした空気が漂うこのエリア。中心のがやがやした雰囲気に疲れてしまったら、ぜひここで休憩してみてください。