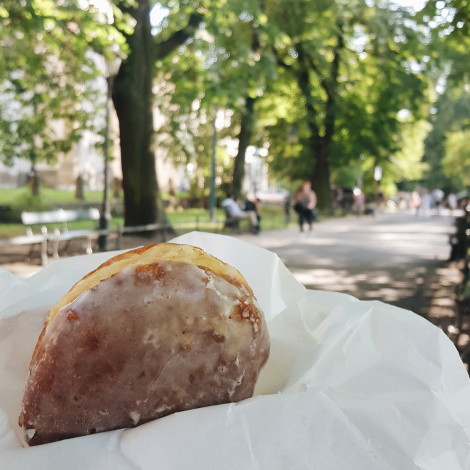 When I travel around, I always try to eat some local cuisine. Pączki was the one I was very eager to try in Poland. It's a doughnut filled with rose jam.
旅先では、ローカルフードにチャレンジするように心がけています。「ポンチュキ」はポーランドで絶対に食べてみたかったもの、ローズジャムが入ったドーナッツです!
I was searching for the best place to get one and came across with this ranking of 2017 (written in Polish), which lists all the popular Pączki shops. This pastry shop in Krakow, Cukiernia Michałek was ranked number one!
どこでポンチュキを買えるのか、たくさんリサーチしてみたところ、こちらの2017年のランキングを発見。ポーランド語で書かれているので、記事が読めたわけではありませんが、どうやら人気のポンチュキ屋さんがリストされている様子。1位のCukiernia Michałek がクラクフにあるとのことだったので、行ってみることにしました!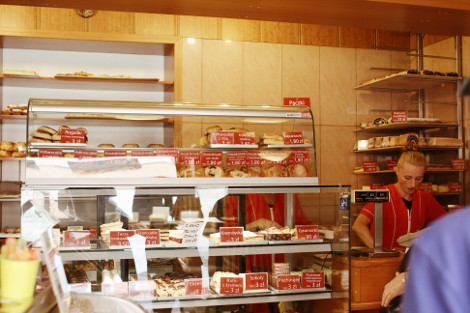 I went there in the morning to find many locals queueing for a variety of pastries.
朝一で行ってみると、パンやケーキを求めて列をつくるローカルの方の姿。
All written in Polish, no English speaking staff available. I was not so sure what I am getting, but I successfully bought a Pączki and two small cream puffs. All you need is to smile and try to pronounce Pączki somehow because it was not displayed on the glass case. They handed them all neatly wrapped in white paper.
お店は全部ポーランド語表記、スタッフもポーランド語オンリー。しかもポンチュキはウィンドウに並んでいなかったので、買えるか不安でしたが、お目当てのポンチュキをひとつと、おいしそうな小さいシュークリームを2つ買うことができました。ポンチュキはカタカナのまま、ポンチュキで通じましたよ!笑
I opened them at the park nearby. It was such a sunny summer day. Many bees came because of the very fragrant rose jam.
白いペーパーに包まれたポンチュキ、近くの公園であけてみました。暑い夏の日だったのですが、ローズジャムの甘い香りに誘われたのか、ハチが何匹も近くに寄ってきてしまいました…
My first Pączki was very fluffy and fruity. Not too sweet and not too greasy. I really loved it so that I came back for the second one on the next day!
初めて食べたポンチュキ、とてもふわふわしていて、フルーティー。甘すぎず、脂っこくもなく、何個でも食べれてしまいそう!とってもおいしかったです。とても気に入ってしまったので、私は次の日の朝も同じお店で、朝ごはんにポンチュキを買いました。
Cream puffs tasted great as well 🙂
シュークリームもとってもおいしかったです!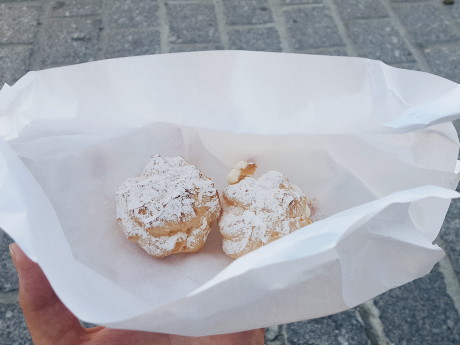 I also tried the one at the grocery store only to find out it tasted a bit too greasy and not fluffy. Because Pączki is pretty simple pastry, it is better to buy at the pastry shop to get the amazing one. It might be great to visit in the morning as it is freshly made.
その後、スーパーのような場所で売っていたポンチュキにもトライしたのですが、とても脂っこく、ふわふわはしていませんでした。ポンチュキはシンプルな食べ物だからこそ、きちんとしたお店で買った方が良いのかもしれません。朝一に行って、出来立てを買うのもポイントかもしれません。
It took about 10 mins from the main plaza.
クラクフの広場から、歩いて約10分でした。