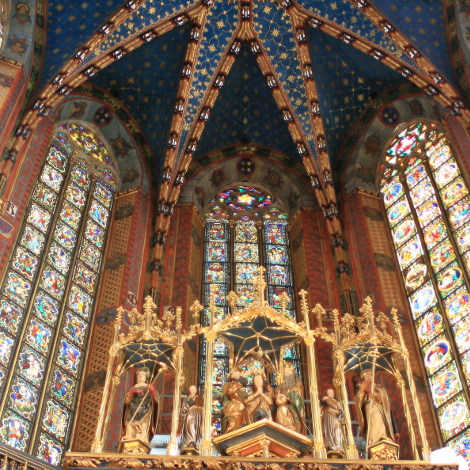 The reason why I wanted to visit Krakow so much was to see this beautiful church.
クラクフに行きたかった理由、それはこの美しい教会を見てみたかったから。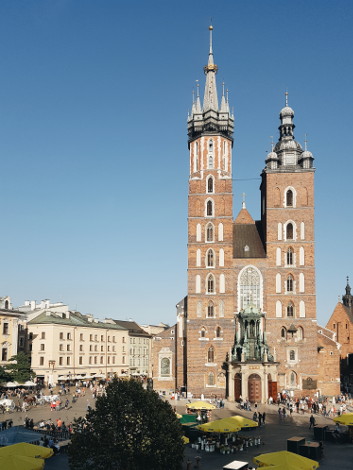 It is the landmark of Krakow, located at the main plaza. The tall Gothic architecture itself was beautiful, but the inside was more than you could imagine.
クラクフのランドマークでもある聖マリア教会は、メインの広場に面して建っています。にょきっと、大きな建物です。外観のゴシック建築もとてもステキですが、中はもう息をのむほど美しい。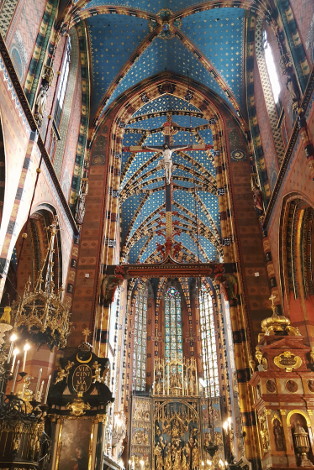 The contrast of very noble blue and the classical stone colour was breathtakingly beautiful. I have visited countless numbers of the church in Europe. I would not say everything looks the same, but more or less they have the similar atmosphere. However, visiting St. Mary's Church in Krakow was very unique experience. It was gorgeous!!!!!
青と壁の色とゴールド。そのコントラストが豪華絢爛で、すごくきれい。ヨーロッパの教会には数多く訪れたことがあります。どれも似通っている…とまでは言いませんが、教会はどこか雰囲気が似たものが多い。でもこの教会はこの鮮やかな色合いがとても特徴的。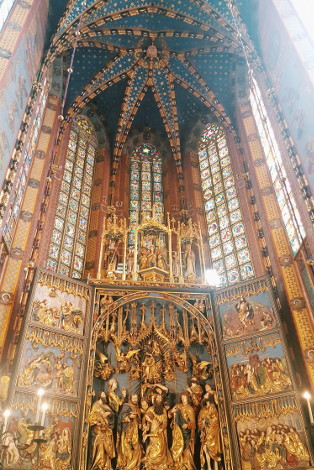 The wodden altarpiece was magnificent!
木製の祭壇画は、とっても装飾が細かくて、素晴らしかった!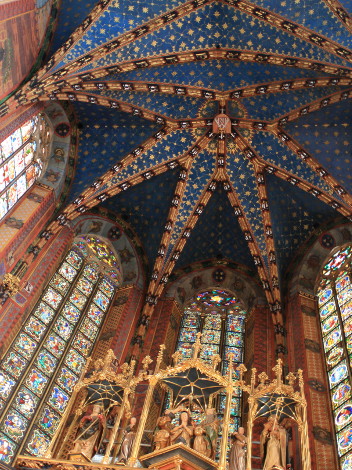 I liked the scenery looking up. It looked as if you see the night sky full of starts.
下から見上げた景色が、まるで夜空をみているかのようで。
I really enjoyed spending time inside this church, but there was just one thing I did not like about visiting this church. It felt more like a 'touristy church' than the other solemn church.
とってもステキな教会でしたが、本当に少しだけ残念な点が。それはこの教会がどこか「観光地化」されてしまっている空気感に満ちていたこと。厳かな気持ちにはなれませんでした。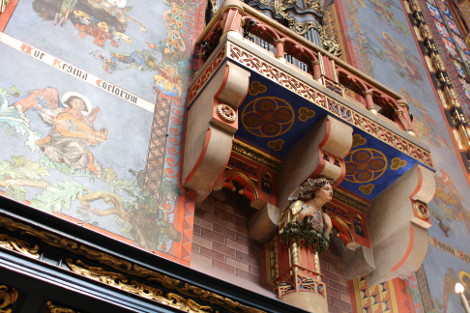 They divide tourists and prayers, completely. The entrance for prayers is at the front. You can only see a little bit of the inside from the very back of the room. You can enter the church free of charge. It seemed like so many of tourists benefited from this… (I didn't like seeing them though. If you are not praying, you are supposed to enter here as 'tourists,' paying the necessary amount of money!!! Tourists really need to respect the place you are visiting.) The entrance for tourists is located on the side. You need to pay for a ticket. Photography is not allowed unless you pay for the photography license. By entering with the ticket, you can freely walk around inside the church.
観光客と信者の方が完全に分けられているからかもしれません。正面にあるのは信者の方専用の入り口。ここからは、建物のほんの入り口部分にしか入ることができません。ここから見る分には無料なので、おそらく観光客であろう方々が沢山いらしていましたが、お祈りのためで無いのなら、観光客用の入り口から入るべきですよね。旅行中だからと言って、こういうマナーを蔑ろにする方がいるのは残念。観光客用の入り口は建物向かって右手にあります。入場にはチケットが必須で、写真撮影にはライセンス料を払う必要もあります。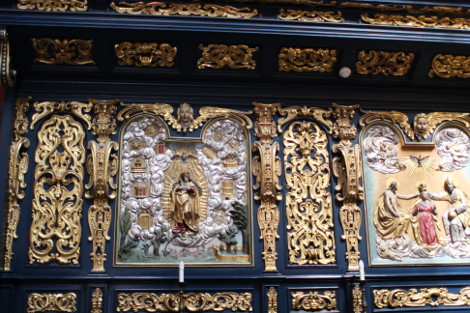 I am not particularly religious. But I like the idea of more OPEN church, treating the prayers and visitors equally. I know it is difficult for most of the church, due to size and numbers of visitors. However, I felt like I was visiting a 'sightseeing spot' rather than visiting a religious site, while I was surrounded only by the tourists at St. Mary's Church. Also, the fact that the prayers are only at the back, in the cloud of free riders was a pity… And, it was a bit too noisy to say that it had a very good atmosphere… Just a little bit disappointed.
私は決して宗教熱心ではないのですが、教会は誰にでも開かれている、という状態が良いと思うんです。信者も観光客も、同じように、同じ空間にいられる状態がベストではないかな、と。ロープで仕切られているのは何か違う。もちろん、その教会の規模や、訪問者の数によってはこういった措置が必要なのは理解できます。でも、観光客ばかりが目に付く教会は、どこか厳粛さに欠けましたし、まるで「観光地」を見ているような気持に。それがとても残念でした。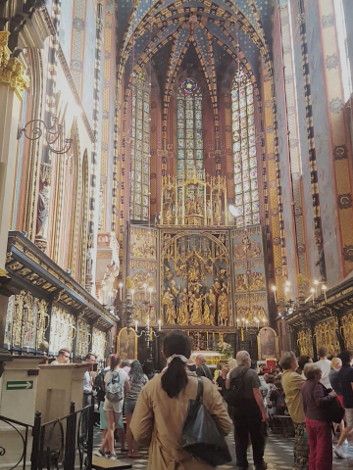 It is worth a visit. The beauty of this church was beyond my expectation!
少し考えてしまう点もありましたが、それでも私の想像をはるかに超えていたこの教会の美しさ!必見です!
Please don't miss the trumpet call!
時折聞こえてくるトランペットの音色にもご注目を!