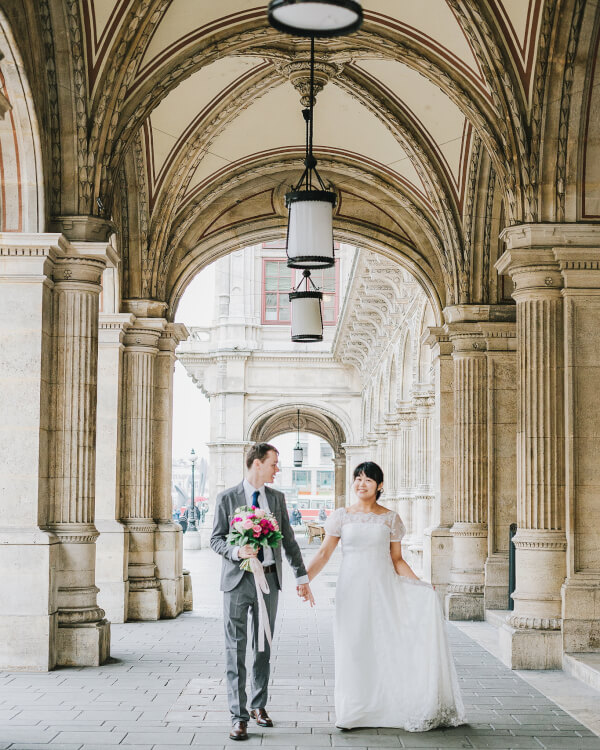 I was determined to visit to Vienna for my honeymoon since I was a child.
ハネムーンは絶対にウィーンへ行く!と、幼い頃から決めていた私。
One of the reasons why I wanted to visit Vienna was for sepia coloured classical scenery with historic buildings. For my honeymoon, I was super lucky to take part in the photo wedding in Vienna, with talented photographer Elena. Having photos taken with such an amazing backdrop made me feel like I was becoming a film star lol
歴史的な建物が立ち並ぶセピア色の街並みにあこがれていました。ラッキーなことに、実際にハネムーンでウィーンへ行き、フォトウェディングを実施することができました。フォトグラファーのElenaさんにステキな景色を背景に写真を撮ってもらうのは、まるで映画の主人公になったような気分でした。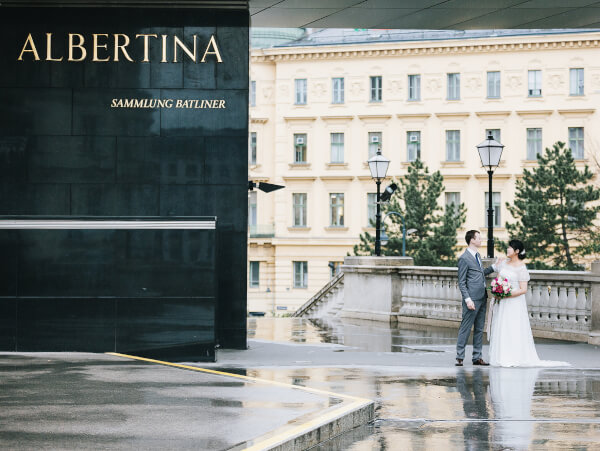 I contacted Elena through her website in advance to check her availability and to tell her the kinds of photos I would like to get in Vienna. She was very friendly and helpful.
フォトグラファーのElenaさんには、ウェブサイトから事前にコンタクトを取っていました。撮影可能日や撮りたい写真について連絡していましたが、とても丁寧な方です。
I decided to work with Elena individually, without any help from a coordination company. There are lots of packaged photo wedding services available, especially targeting Asian (Japanese) couples. However, they are more likely to be over priced and the skill of the photographers in these packages are not guaranteed.
今回、斡旋会社等は使わず、すべて個人手配でフォトウェディングを行いました。日本人相手にフォトウェディングのパッケージを取り扱う会社は沢山ありますが、どこも金額が高く、フォトグラファーのスキル面にも不安を感じました。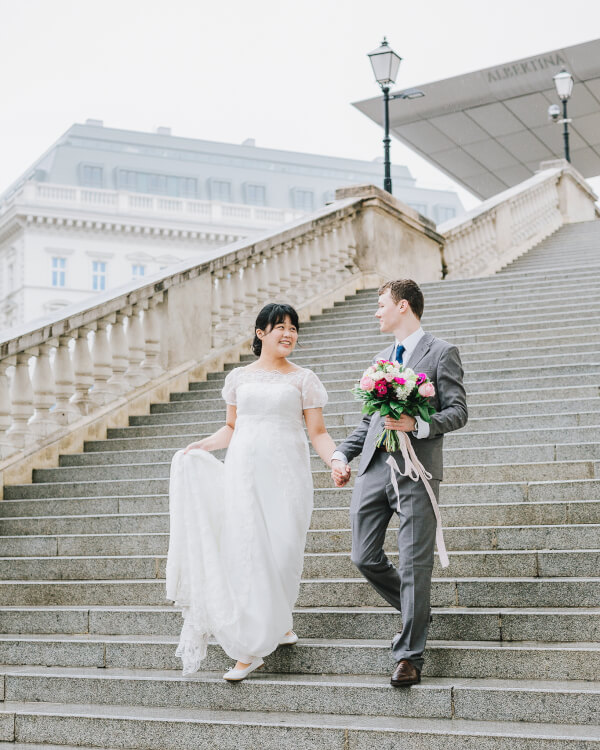 In the end, it was a great decision that I searched for my favourite photographer working in Vienna, using Instagram and Pinterest. I would say, Elena is one of the best you can  find in Vienna.
インスタグラムやピンタレストで、ウィーンを拠点に活動するフォトグラファーを自力で探しましたが、Elenaさんの撮る写真の世界観がとてもステキで、大正解でした。(お値段も、日本の会社に頼むよりずっとリーズナブルでしたよ)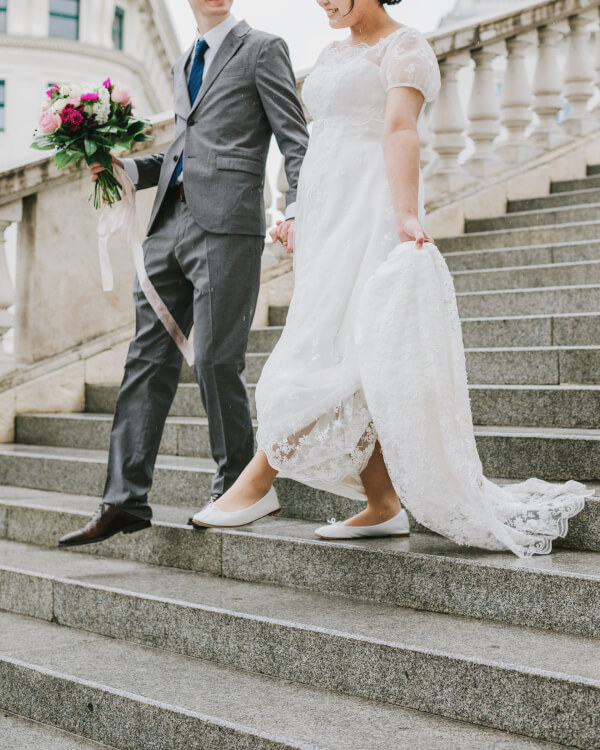 In hindsight, what you need to be responsible for when not using the coordinator is that you need to prepare your own costume, hair, make up and flowers.
個人手配の唯一の欠点は、ドレスやヘアメイク、ブーケも自分で準備しなければならないこと。
For my wedding dress, I brought my own dress purchased in Japan. Dress shop Kind offers good quality dresses at affordable prices. Also, they are good at customised dress design service.
(To bring your dress on the flight, I would advise you to get in touch with the Airline. JAL and Finnair were very supportive.)
ドレスについては、日本で購入していた物を持っていきました。カインドさんは質の良いドレスをリーズナブルな価格で提供していておすすめできます。デザインをカスタマイズできるのもとても良かった。
(ドレスの飛行機での運搬については、エアラインに事前に相談することをおすすめします。JALとFinnairはとっても協力的でした。)
My self set hair and make up were a mess! But it was not really a problem when I checked the photos later on.
ヘアメイクは自分でしたのでテキトウでしたが、仕上がった写真を見てみたら意外と気になりませんでした。笑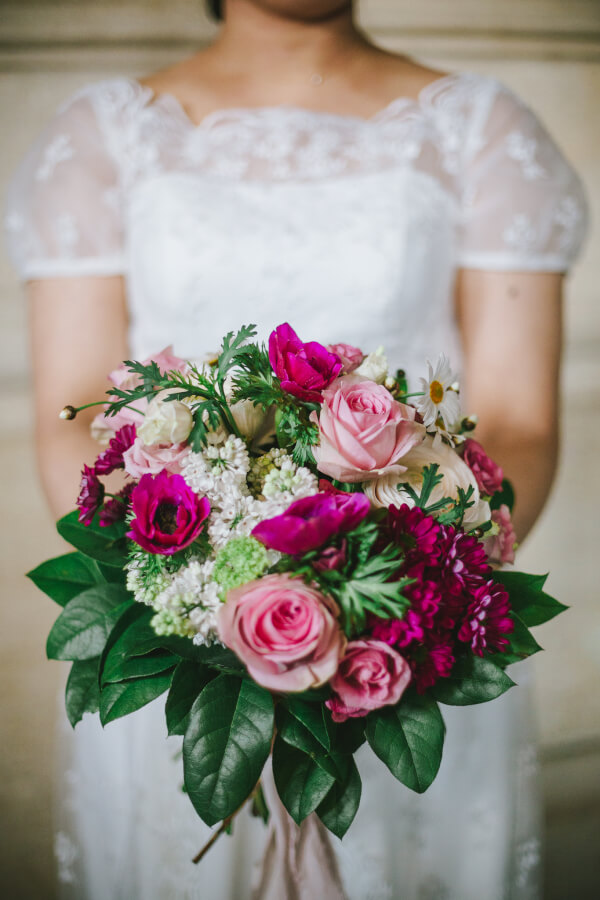 For flowers, I had help from Elena for flower shops that are open on Sunday.  It is a good idea to bring a ribbon to make your self prepared bouquet look even better!
ブーケは撮影前日に現地で手配したかったのですが、ちょうど日曜日。日曜日でも空いているお花屋さんをElenaさんに教えて頂き、無事、用意することができました。持ち込んだ手染めのリボンが良いアクセントになりました。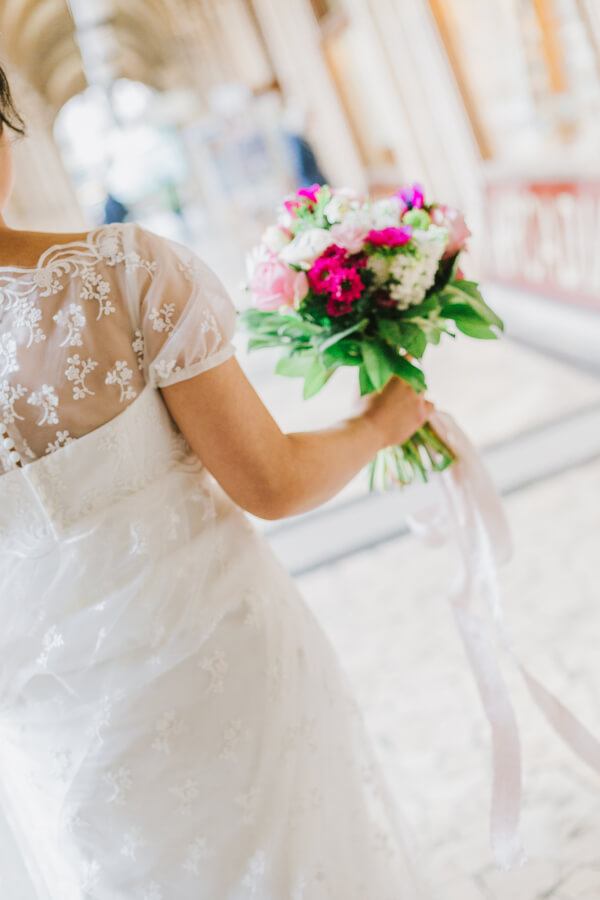 On the day of the photo shoot, unfortunately it was raining heavily. However we were still able to take some lovely photos and Elena was kind enough to offer us another day free of charge.
残念なことに、撮影当日は大雨。(さすが雨女。笑)
それでも、とってもステキな写真を撮っていただけたので満足です。また、Elenaさんのご厚意で、別の日にもう1度撮影していただくことができ、撮りたかった明るい雰囲気のウィーンも写真に納めることができました。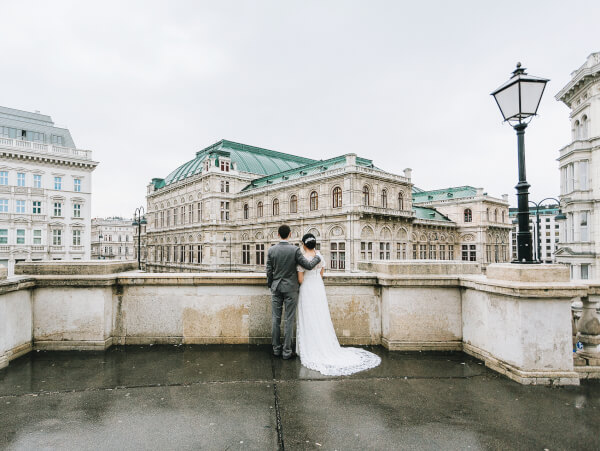 Also, the photos we took while we were waiting for the rain to ease off a bit really captured the moment. I loved it. Every cloud has a silver lining!
雨宿りで入ったカフェでの一コマも写真に残していただきました。あの時の楽しさを思い出させてくれる、お気に入りの一枚です。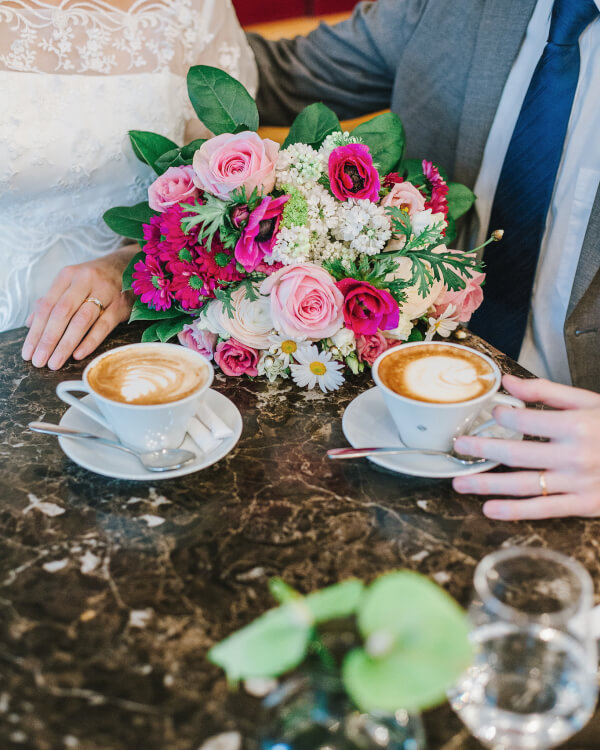 Elena was very helpful and supportive for suggesting to us good poses for the photos, encouraging us to talk to each other to create a more fun atmosphere.
写真の撮られ方については、Elenaさんがポーズを提案してくださったので助かりました。また、私たちに会話するように促してくださったおかげで、自然な表情を残すことができました。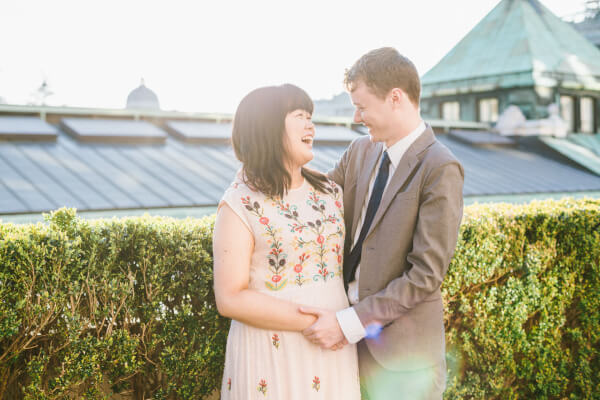 All the photos taken in Elena's photo shoot became one of our all time favourites.
どの写真も、とっても大切な思い出。大切な宝物になりました。
We would love to come back to Vienna, maybe for another anniversary… let's say 20th? and hoping to do this one more time!
またいつかの記念に、結婚20周年とか!に、ウィーンに戻ってまた同じ景色の中で写真が撮れたらいいなぁ。