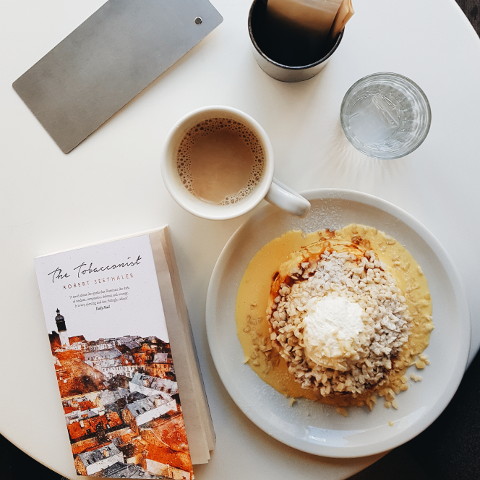 Very quiet yet powerful book.
静かで、でもとても力強い本です。
The story is set in a very dark time of the history when Nazism shadows all the brightness of the daily life. The book makes the reader experience this era with the main character Franz. It was very vivid as if I am actually there, feeling textures, smells and sounds.
ナチスが勢力を増していく日々を描いたこの物語、読み手が、まるで主人公のフランツと共に街を歩いているかのような臨場感がある本です。手触りや匂い、音までもがリアルに感じられる読書体験でした。
Franz is a teenager who started working at the tobacconist in Vienna. I really liked the descriptions of the tobacconist and the relationships with the owner and the customers.
ウィーンのキオスクで働き始めるティーンエイジャーの男の子、フランツが主人公です。キオスクの風景や、オーナーとお客さんの関係性の描写がとてもステキでした。
It was such a sad and beautiful book. It made me think of how your every day is precious and how gradually it altered by something like bad politics and the war.
とても悲しく、美しい本。読み終わった後は、政治や戦争など、時代の流れに翻弄される人々の、人生の一日一日の大切さや、その一日が徐々に変わっていくその切なさに思いをはせました。
4/5
日本語版も出てます!
If you liked something like Villa Triste , I am sure you will enjoy it 🙂
*****
More reviews available on my book blog Intermission Ambience
書評ブログの Intermission Ambience にも本のレビューを書いています。あわせてぜひご覧ください!