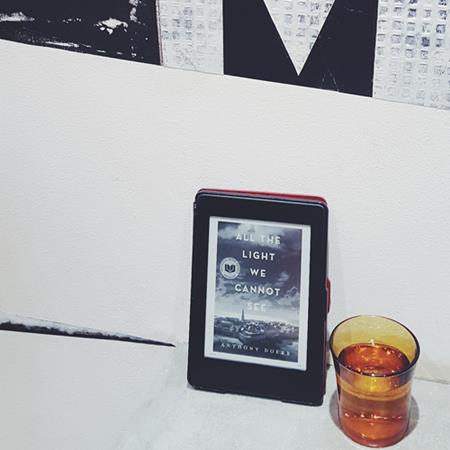 My most favourite book I have ever read 🙂
和書・洋書含め、今まで読んだ本の中で、一番心に残った本です。
Extraordinarily beautifully written. The whole writing sounds like one beautiful dream! Although the setting is at the time during the WWII in France and Germany, I felt the warmth of the story line.
とても美しい本です。物語全体が、まるで夢の中のように感じられるやわらかい文章。でも、物語は第2次世界大戦を舞台にしています。それなのに不思議とあたたかいのがこの本のステキなところ。静かで、繊細な文章にぐんぐんひきこまれます。まるでキャラクターと一緒に生きているかのようなリアルさも!
Especially with one of the main character, Marie-Laure, the blind girl, you will feel the sound of the bombings and the smell of the room she stays as if you are seeing her in front of you.
特に、2人いる主人公のひとり、盲目の少女Marie-Laure。彼女の聞く暗闇の中の爆撃の音や、彼女の過ごす部屋の匂いまで、まるで彼女が目の前にいるように感じられるよう。
It is rare to find a book like this, that would stimulate the power of imagination.
ここまで想像の力を刺激する本、珍しいです。
There are too many books set during the war, and make it into a cheap love story. This one is not like that.
戦争を通した人間ドラマがメインですが、よくある戦時下の安っぽいコテコテラブロマンスでは決してありません。
Utilising the dramatic time frame, this story would tell the kindness and warmth of people's interactions, and the destiny and fantasy to meet someone special.
人と人との繋がりや、心と心のふれあい、優しさや思いやり。人生の中で誰かと「めぐり合う」ことの幻想的な奇跡について。やわらかくしっとりとした心の動きを、戦時中という決して穏やかでない、ドラマチックな世界を舞台に描いています。
Quiet and sensitive style of writing makes you see the actual scenery and atmosphere of that era.
静かで、美しくて、まるで目の前に当時の空気感と景色が広がっていくような、とても繊細な物語です。
読み終えると、この本のタイトルにとてつもない美しさを感じます。
物語の主人公たちにとって「見えない光」とは何なのか。いろんな書評でこの部分の完全なネタバレをしているのを散見しますが(信じられない!)、何も知らずに読むほど、じんわり染み入る本だと思います。
ただじっくり、世界観に浸りたい一冊です。
5/5
日本語訳も出ています!
*****
More reviews available on my book blog Intermission Ambience
書評ブログの Intermission Ambience にも本のレビューを書いています。あわせてぜひご覧ください!