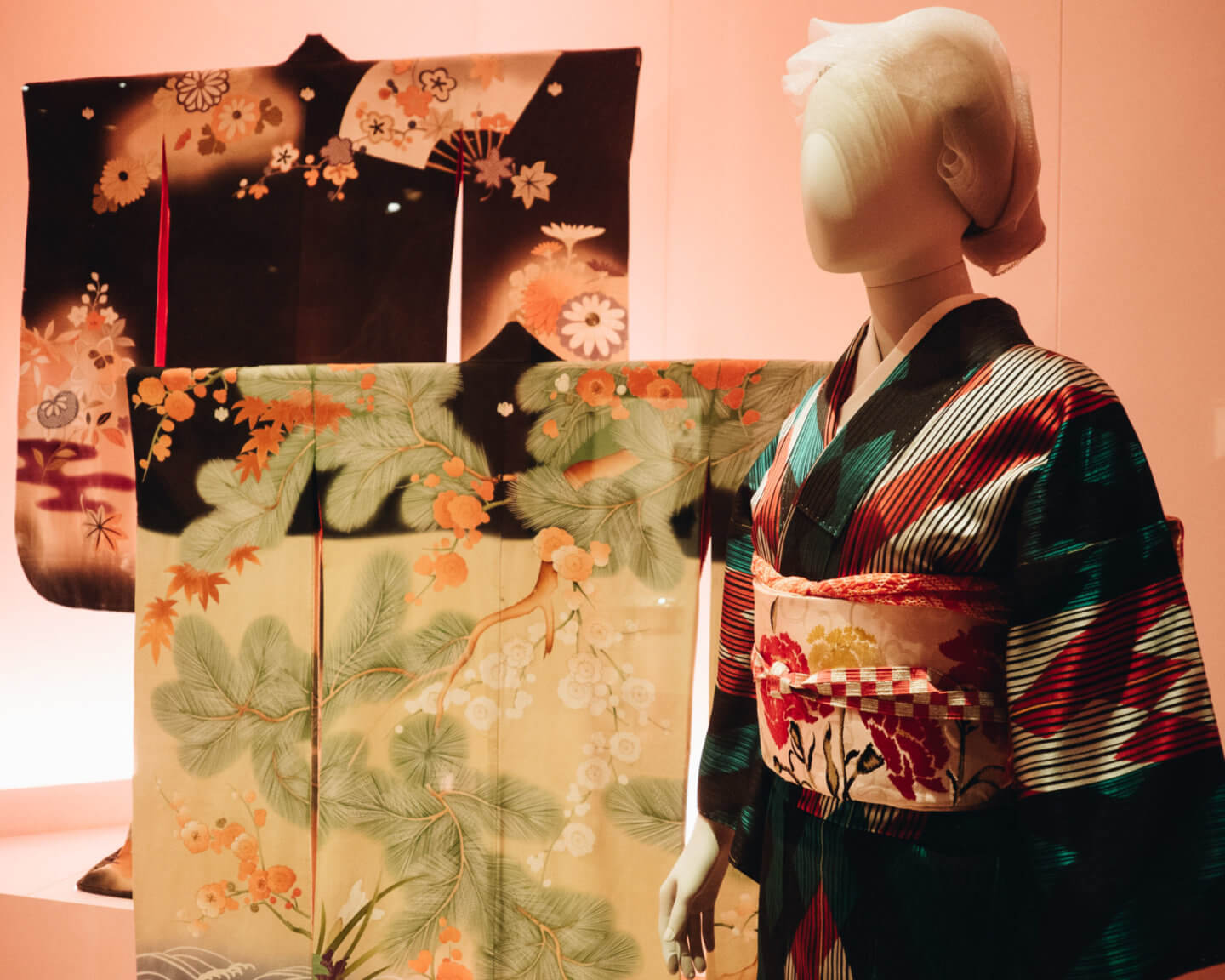 I had been looking forward to checking out this special exhibition about Kimono since the V&A first announced it. During the opening weekend, I popped along for a visit to find lots of people curiously working their way through galleries packed to the brim with a whole host of beautiful Kimono. In this sense, I couldn't have been happier to see so many people turning out for a Japan-themed exhibition.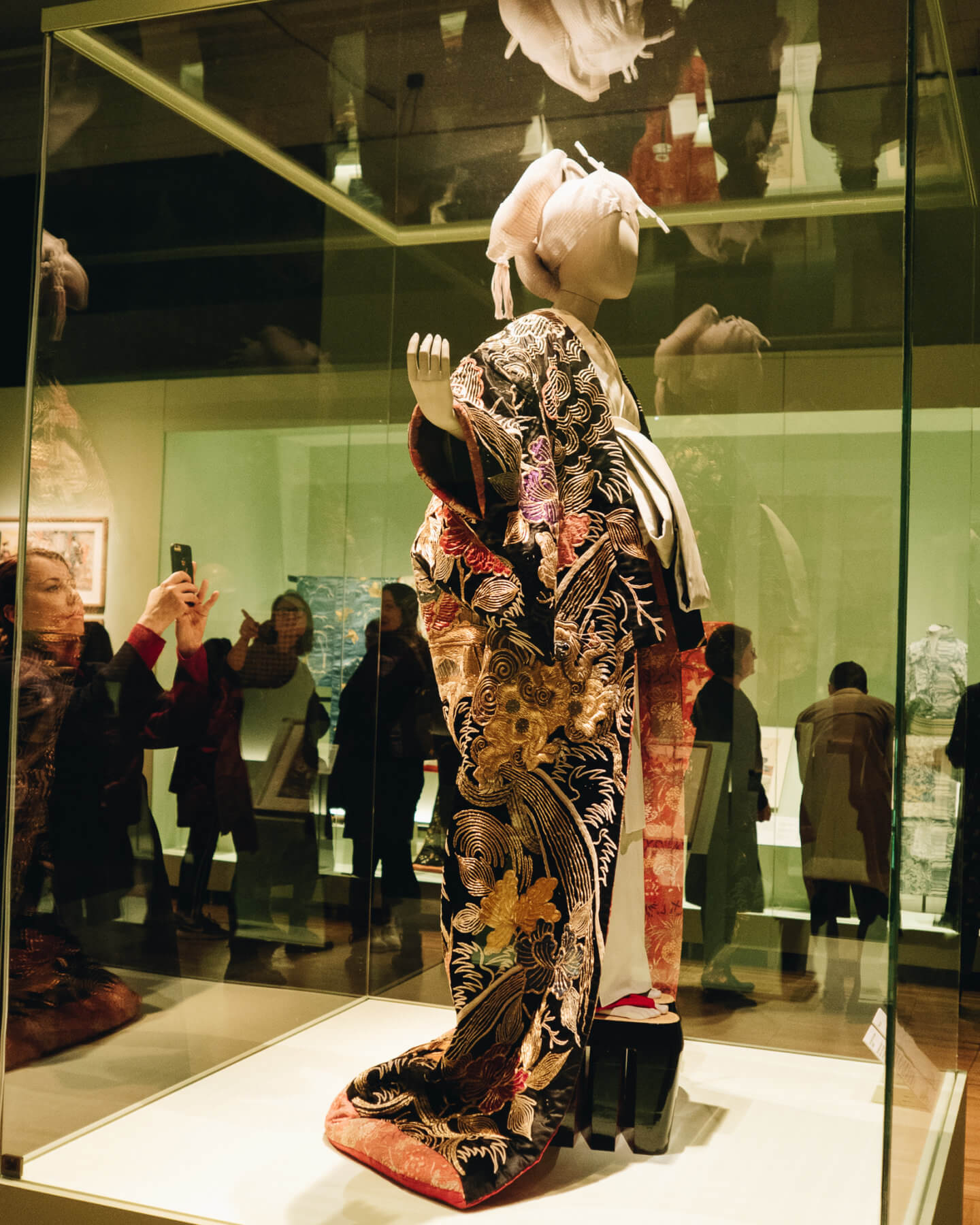 Overall, the gallery space was not bad when viewed as a kind of fashion exhibit; all the kimono on display were very beautiful. However, I was left with somewhat mixed feelings in my mind. As a Japanese woman who loves to dress in Kimono for special occasions, and who grew up with my parents wearing Kimono quite often for these occasions, I felt the core concept of this exhibition did not fully express the depth of Kimono as a cultural artifact, or the significance of Kimono in contemporary Japan today.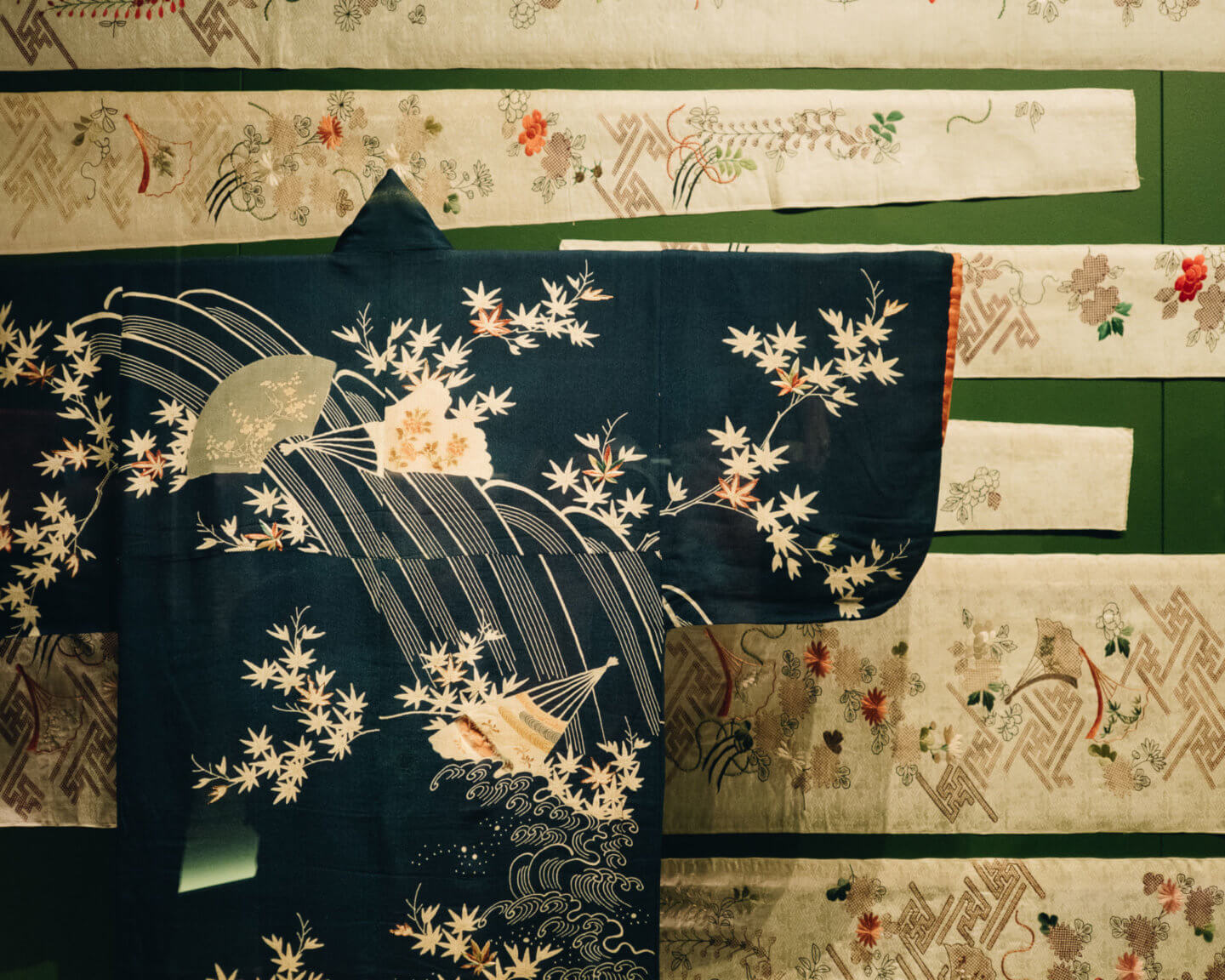 The exhibition was designed to follow the development of Kimono in chronological order, starting from the Edo period and covering how they were created and sold during this time.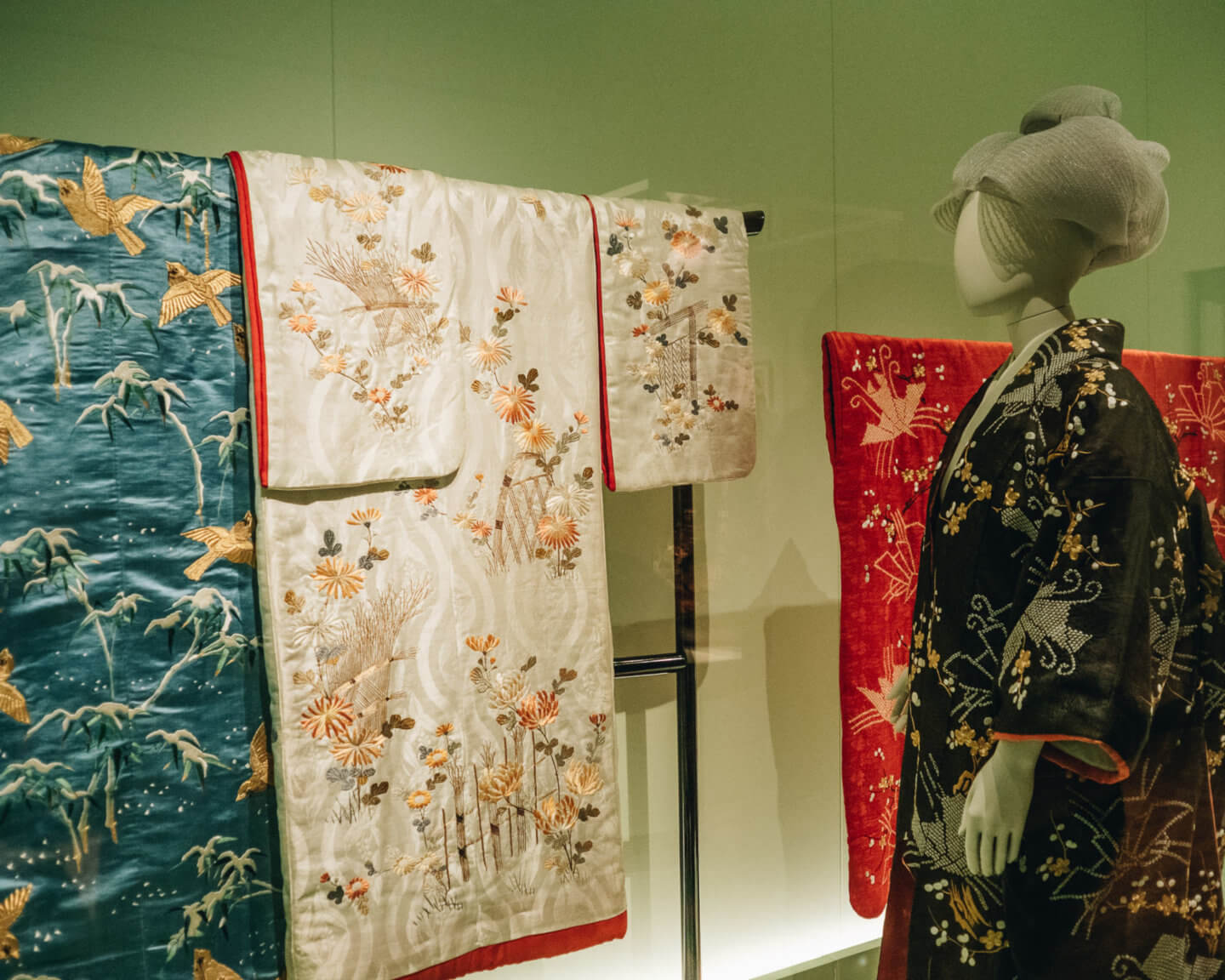 Artisans of beautiful and flamboyant embroidered Kimonos developed their trade through the creation of Kimono for military elites to show off their status. This section displayed especially gorgeous garments with lots of references to Geisha and Oiran.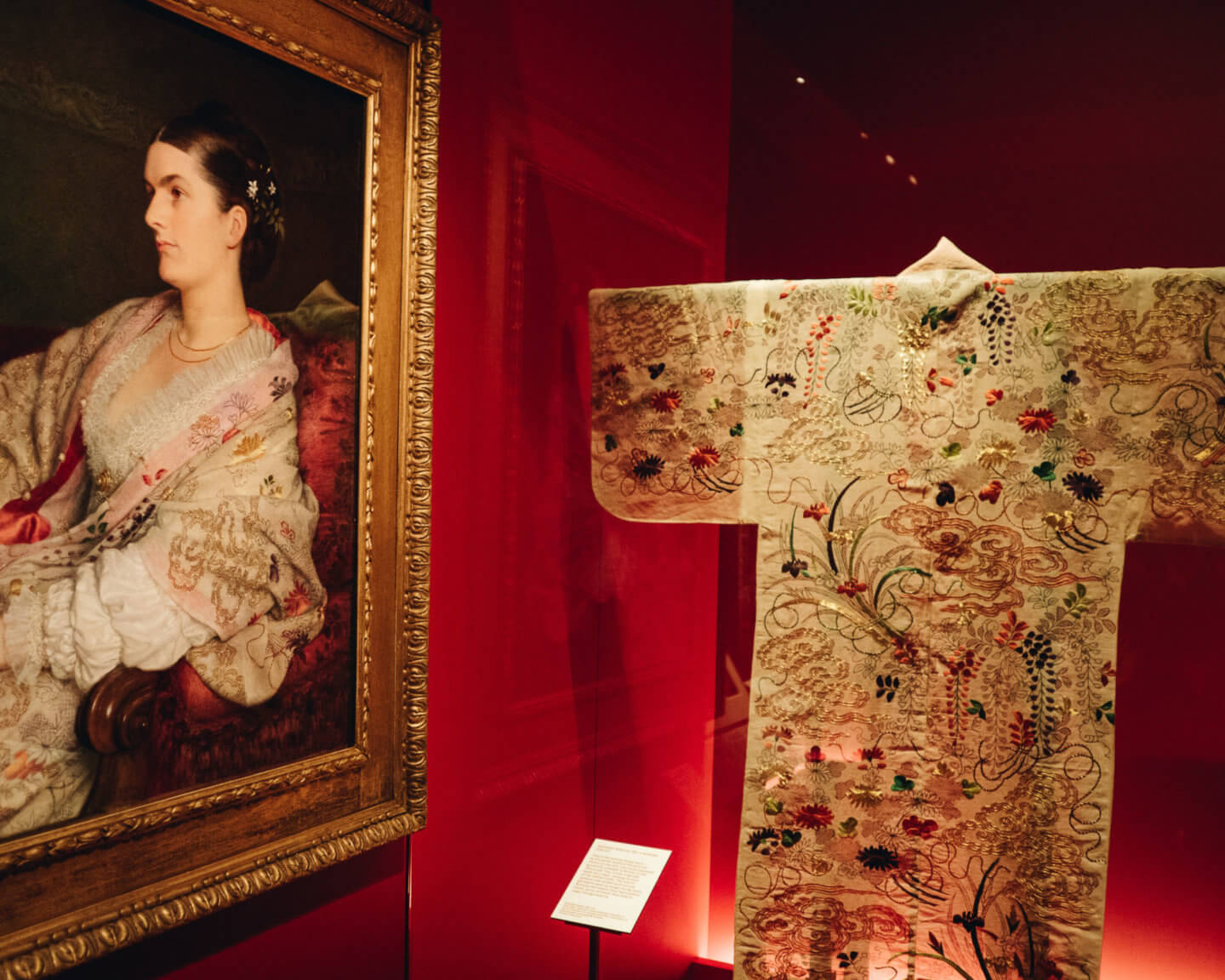 The surprising instance of Western / European influences on Kimono made for an especially interesting section. There were Juban (under-kimono) made from European floral fabrics on display.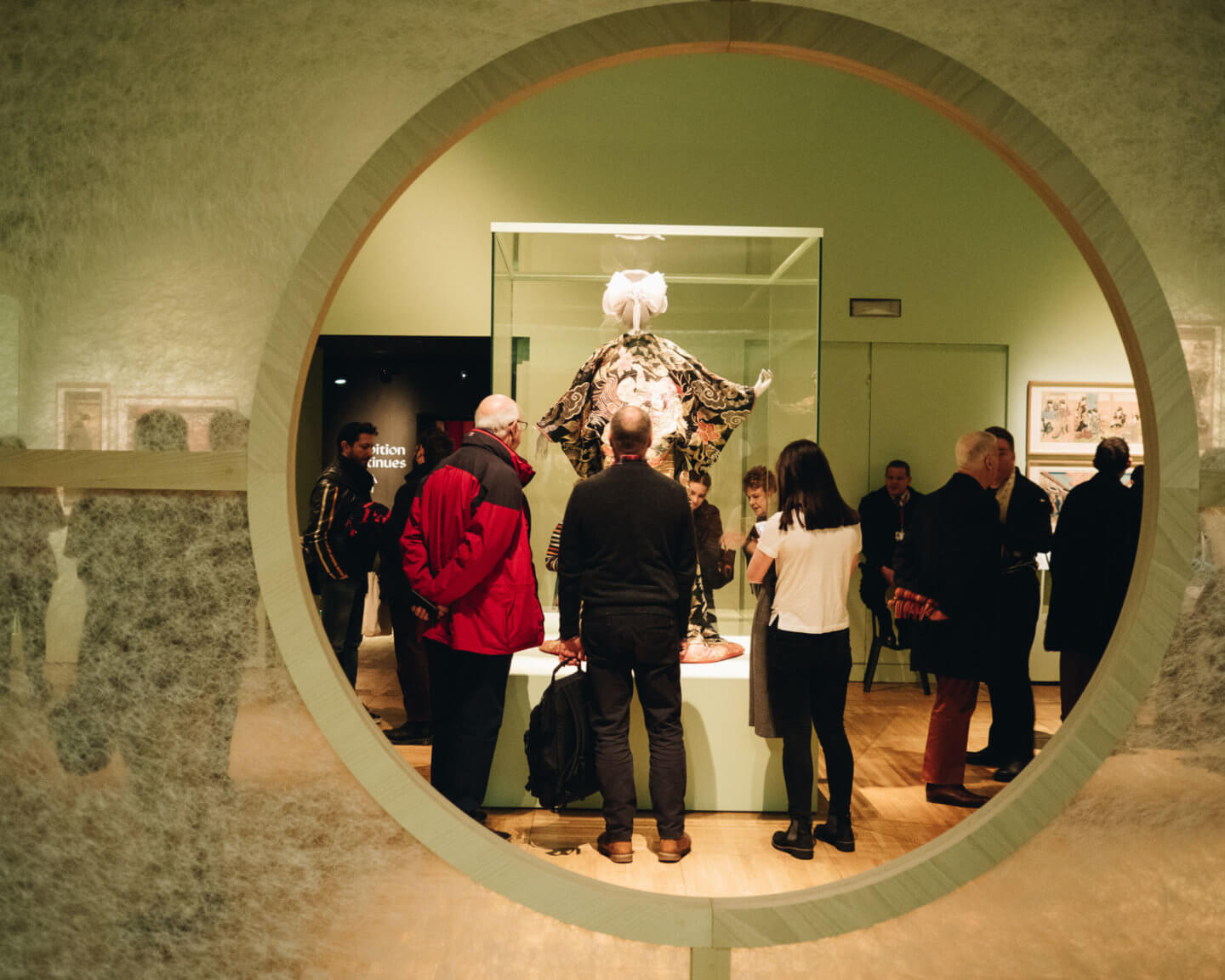 The last section showcased Kimono on the global stage, from lots of famous designers' Kimono works, to Kimono-inspired costumes from films such as Star Wars and Memoirs of a Geisha. You could even see the Kimono from Bjork's iconic album cover.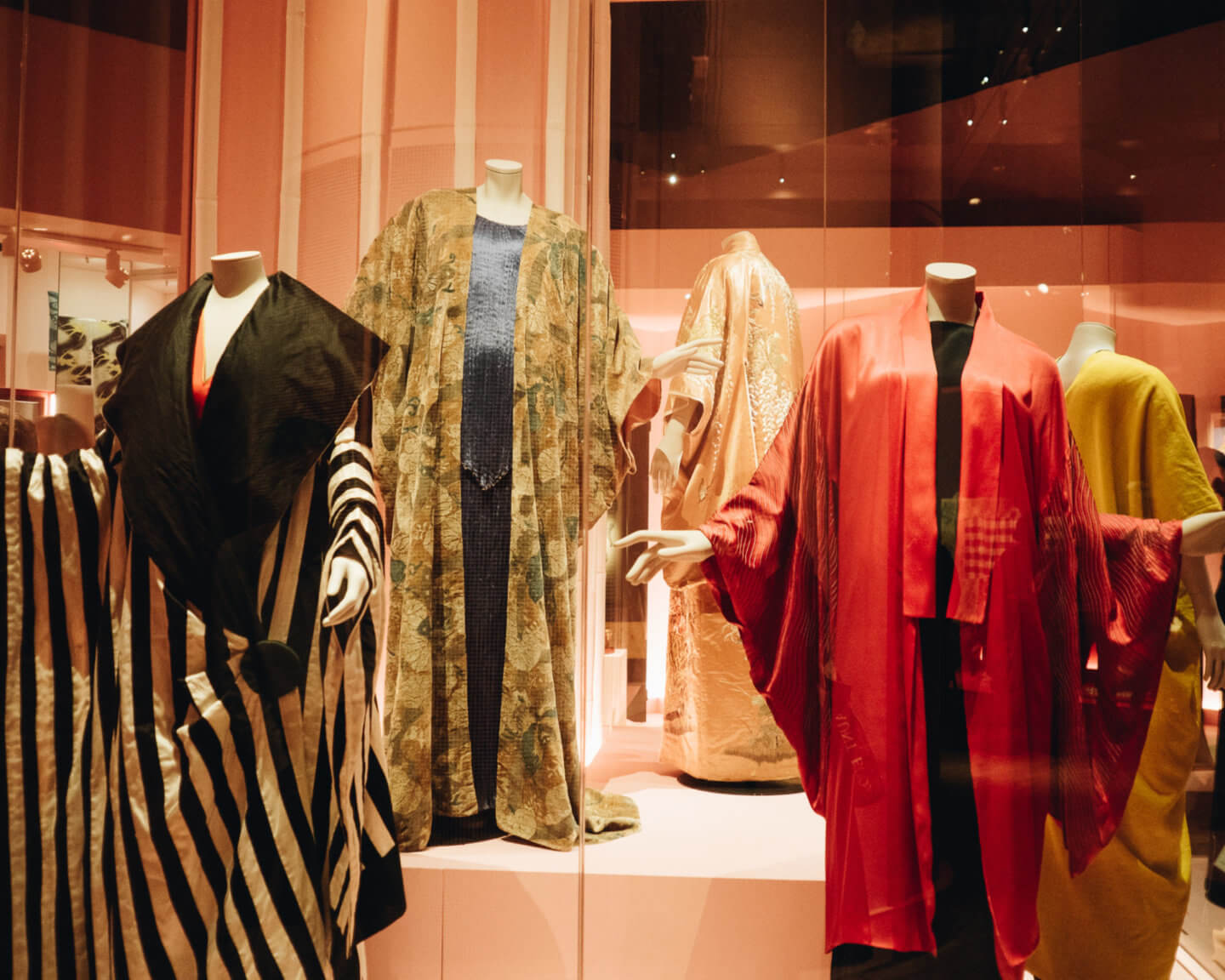 Despite there being nearly 300 art pieces on display – all incredibly beautiful and amazing – I felt it was a shame that there was none or very minimal reference to any individuals who wore Kimono in daily life, how to wear Kimono, when to wear kimono, the difference between Kosode (short sleeves) and Furisode (long sleeves). The exhibition came across as voiceless and generic.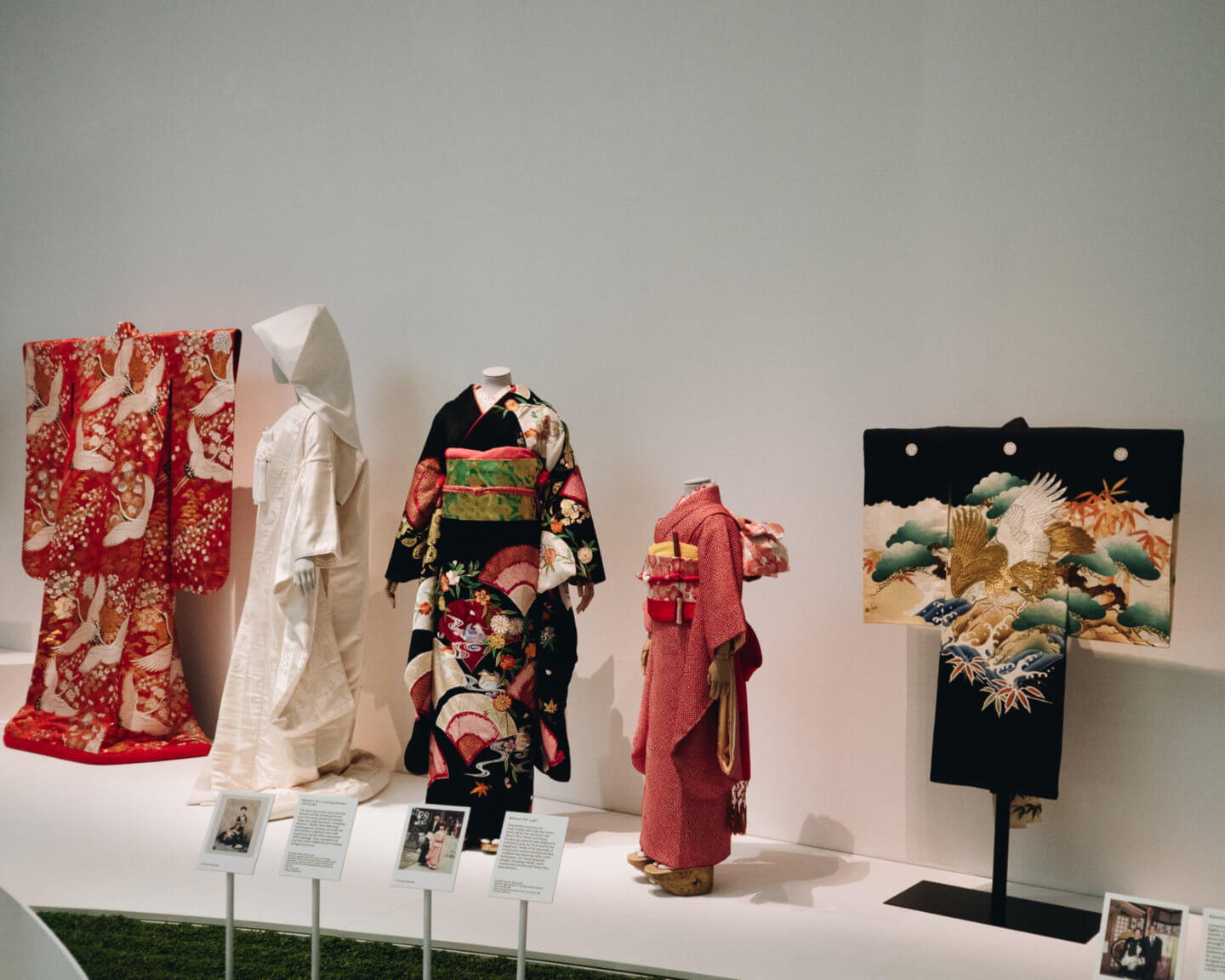 I rather felt that Kimono had been made into something normal people would not have any connection to. There was a tiny section displaying a Kimono used for weddings, and family photo snapshots, but it was poorly explained and did not fit well into the exhibition's overall narrative. Tacked on at the end, it almost felt out of place.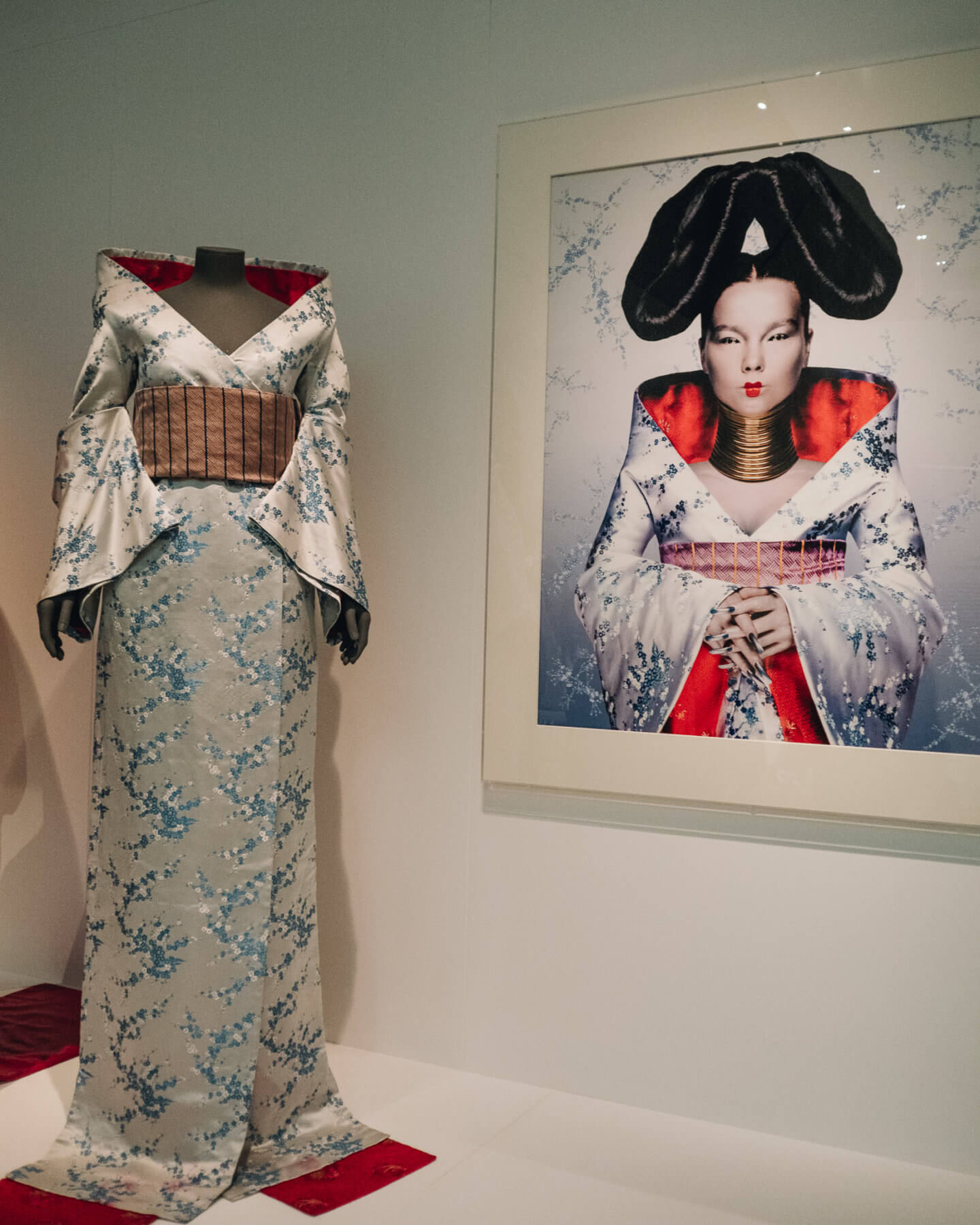 Kimono as a fashion is a continually evolving piece of iconography. I understand this as the theme the exhibition clearly wanted to sell. But at the same time, Kimono is also a form of traditional clothing that Japanese people nowadays still choose to wear for important occasions. Without any reference to the cultural significance of Kimono in Japanese culture today, this exhibition made me feel upset, by seeming to position Kimono almost purely as a fashion piece. Presented in isolation in this manner, I felt no real respect towards its rich history (or its continuing relevance to contemporary Japanese society).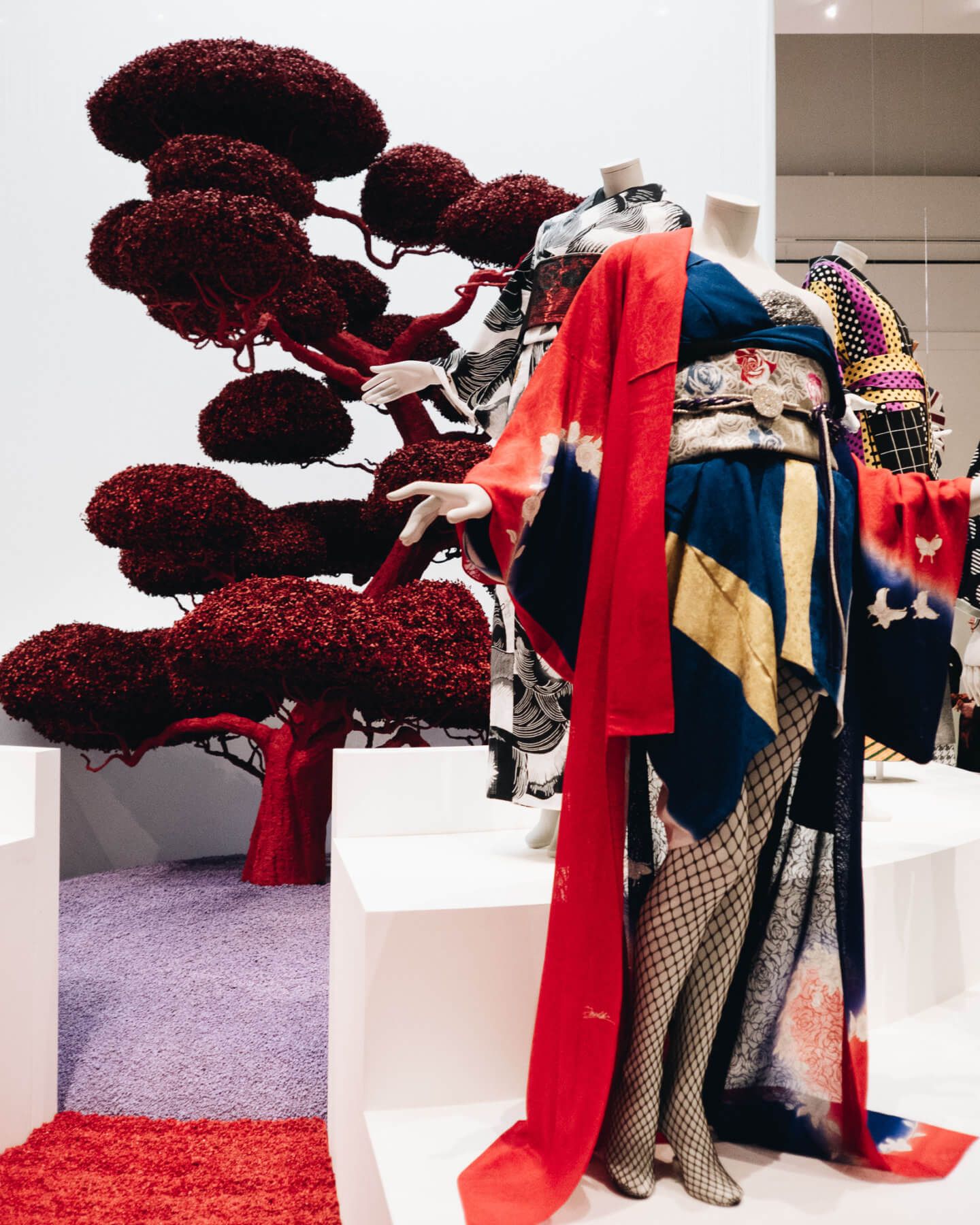 What about placing the complexities of the kimono in relation to contemporary news coverage? For example, the recent story of the thousands of girls' let down in advance of their coming-of-age ceremonies when the store they were renting their Kimono from suddenly went bankrupt.
In general, I thought the V&A could have done much better – their recent Mary Quant Exhibition being a fine example – by explaining more about the socio-historical background of the Kimono; how these clothes had been both influenced by, and impacted on, society, as well as how people over the years have understood and enjoyed its unique beauty as both a form of clothing and artform.